Homemade chalupas are a knockout dinner the whole family will go crazy over.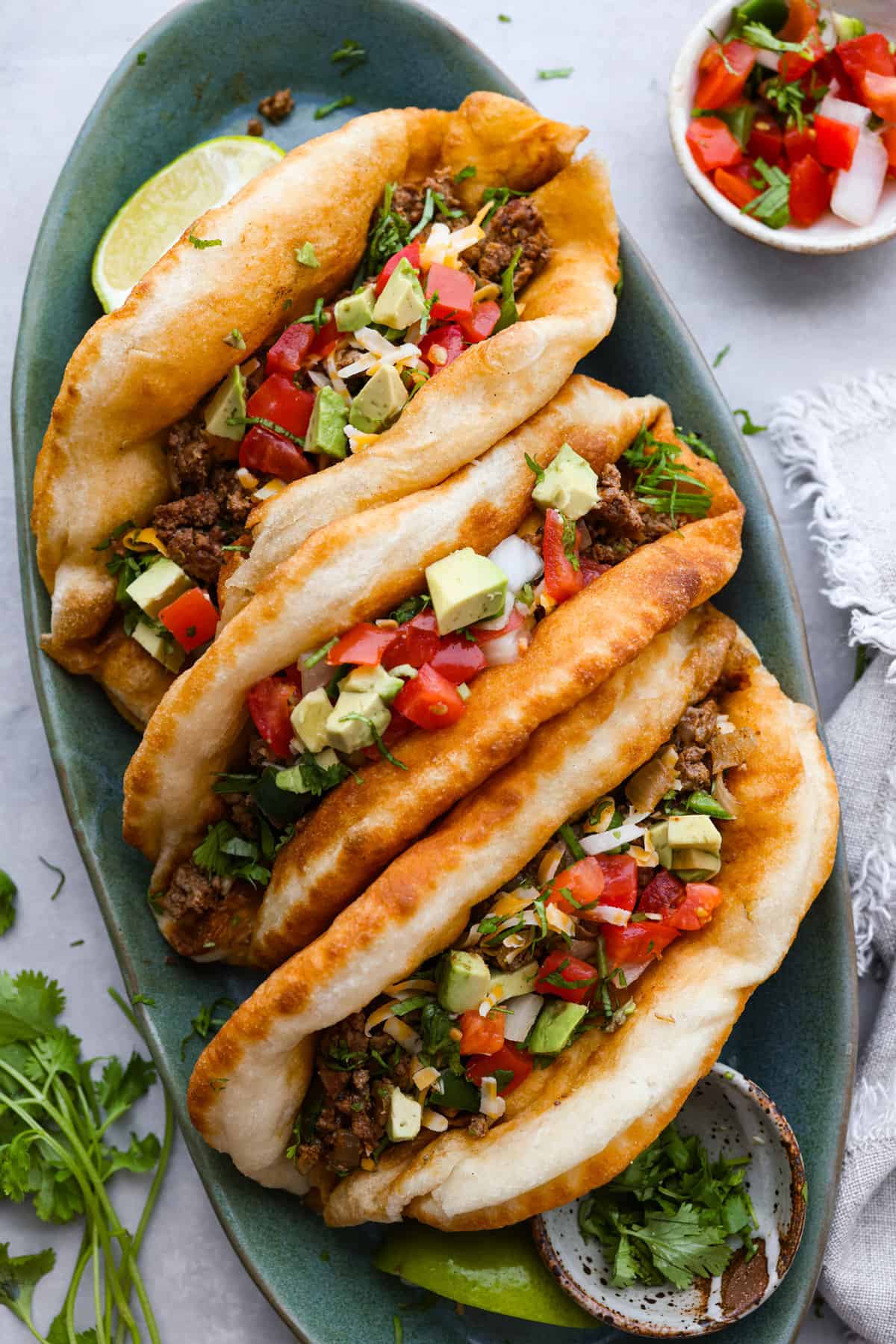 All your favorite taco fixings inside a warm, fluffy piece of fried bread! Homemade chalupas are a knockout dinner the whole family will go crazy over.
What is a Chalupa?
If you've never had one from Taco Bell before, here's what a chalupa is and why they're so great! Chalupas are a tasty Mexican dish known for crispy fried tortillas topped with various delicious ingredients. (You can customize them however you like!) This recipe makes fresh chalupa wraps by mixing flour, baking powder, and milk to create the dough. After frying, you fill them with seasoned ground beef, pico de gallo, sour cream, avocado, lettuce, and cheese.
Give making chalupas at home a shot – it's easier than you'd think! You've got basic ingredients and straightforward directions to whip up these mouthwatering Mexican goodies right in your own kitchen. So whip up a fresh batch of fry bread, grab your toppings, and get ready to create a dinner the whole family will love!
For the Chalupa Shells:
Chances are you have everything in your pantry to whip up the delicious fried wraps. From there, all you need is some taco meat, fresh veggies, and any sauces or dressings you'd like to add!
All-Purpose Flour: To give your chalupa wraps structure.
Baking Powder: A leavening agent that helps the chalupa wraps rise and become nice and airy.
Salt: So the wraps don't taste bland!
Whole Milk: Adds moisture and richness to the dough.
Vegetable Oil: Used for frying the chalupa wraps until they're crispy and golden.
Toppings
Ground Beef: The main protein for the chalupa filling. You can also use ground pork, turkey, minced chicken, or chorizo if you wish!
Diced White Onion: Adds a mild, sweet onion flavor to the ground beef filling.
Taco Seasoning: So the meat has the perfect amount of flavor. Use packaged taco seasoning or try making your own!
Water: So the meat mixture stays moist.
Pico de Gallo: A fresh salsa made with diced tomatoes, onions, cilantro, and lime juice. You can also use any other kind of salsa you prefer, or omit it entirely.
Shredded Cheddar Cheese: Adds a rich, cheesy flavor to the chalupas.
Diced Avocado: For some creamy goodness.
Lettuce: Shredded to add crunchy texture.
Sour Cream: A creamy, tangy topping that complements the flavors of the chalupas.
How to Make Homemade Chalupas
I know it can be intimidating to fry your own chalupa wraps, but trust me, it's actually pretty simple! The dough is super easy to make, and each wrap only needs to be fried for a couple minutes in a skillet or saucepan. No deep fryer needed!
Chalupa Wrap
Dry Ingredients: In the bowl of a stand mixer add the flour, baking powder, and salt whisk by hand to combine.
Add Milk: Pour half the milk into the bowl and using a dough hook, mix the dough on medium speed, gradually add more of the milk until it has all been added.
Rest: Once everything has come together and the dough is smooth, remove it from the mixing bowl and place in a lightly oiled bowl. Cover and let the dough rest 45 minutes to an hour.
Shape: When the dough has rested, divide it all into 2 inch rounds. Place the rounds on a floured surface and roll them all out about ⅛ to ¼ inch thick. You can either roll them with a rolling pin or flatten and stretch them using your hands.
Fry: Add the vegetable oil to a skillet and heat it up over medium high heat. When the oil is ready, begin frying the chalupa wraps one wrap at a time by carefully placing them in the oil, frying for 2-3 minutes per side.
Transfer to Plate: The wraps should puff up and be a golden brown color. When they are done, remove them from the oil and place them on a paper towel lined plate to soak up any excess oil.
Rest: Allow the wraps to rest a little before filling.
Fillings
Heat Up Skillet: Heat a large skillet up over medium-high heat.
Cook Beef and Onions: Place the ground beef into the skillet with the onions and cook the meat until it is nearly entirely browned, about 5-8 minutes.
Add Water and Taco Seasoning: Add in the ¼ cup of water and taco seasoning, stir to coat all the meat entirely. Continue to cook until the beef has fully cooked and all the water has evaporated.
Fill Wraps: Fill the chalupa wraps with a generous serving of meat, pico de gallo, cheese, avocado, lettuce, and sour cream.
Enjoy: Serve fresh!
About Post Author