GRANDMA VARGA'S HUNGARIAN CUCUMBER SALAD (UBORKASALATA)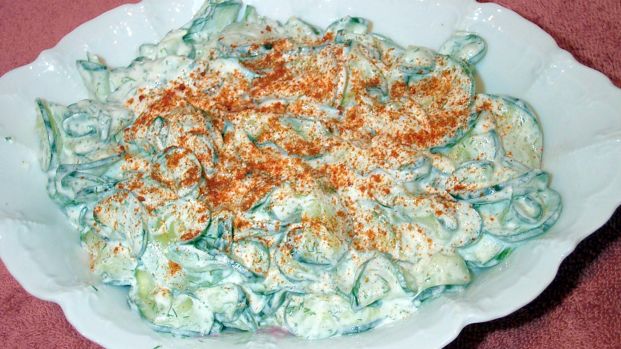 Recipe by Anthony Gougoutris
NGREDIENTS
DIRECTIONS
Slice cucumbers very thinly, preferably using a mandolin.
Take a colander, put in a small layer of cucumbers, then sprinkle with a small amount of the salt.
Continue this method until all the salt and cucumbers are used up.
Cover the cucumbers with a plate inside the colander, and put a very heavy weight on top.
Make sure the colander is in a large bowl, because the cucumbers will lose alot of water.
Let them sit for 1 hour.
In the meantime, chop the dill and finely mince the garlic, put aside.
After 1 hour, take a handful of cucumbers, and squeeze out as much juice as you can, and continue until they are all done.
Rinse thoroughly with water, drain well.
After the cucumbers are done, return to the colander, and weight down one more time for about 15 minutes.
You do not have to squeeze out the juice again with your hands Combine all ingredients in a large bowl, except the paprika.
After mixing thoroughly, put in a nice serving dish, and sprinkle with the paprika.
Chill for at least 2 hours.
Enjoy.