These grilled pork chops will have friends and family declaring you the king (or queen!) of the cookout!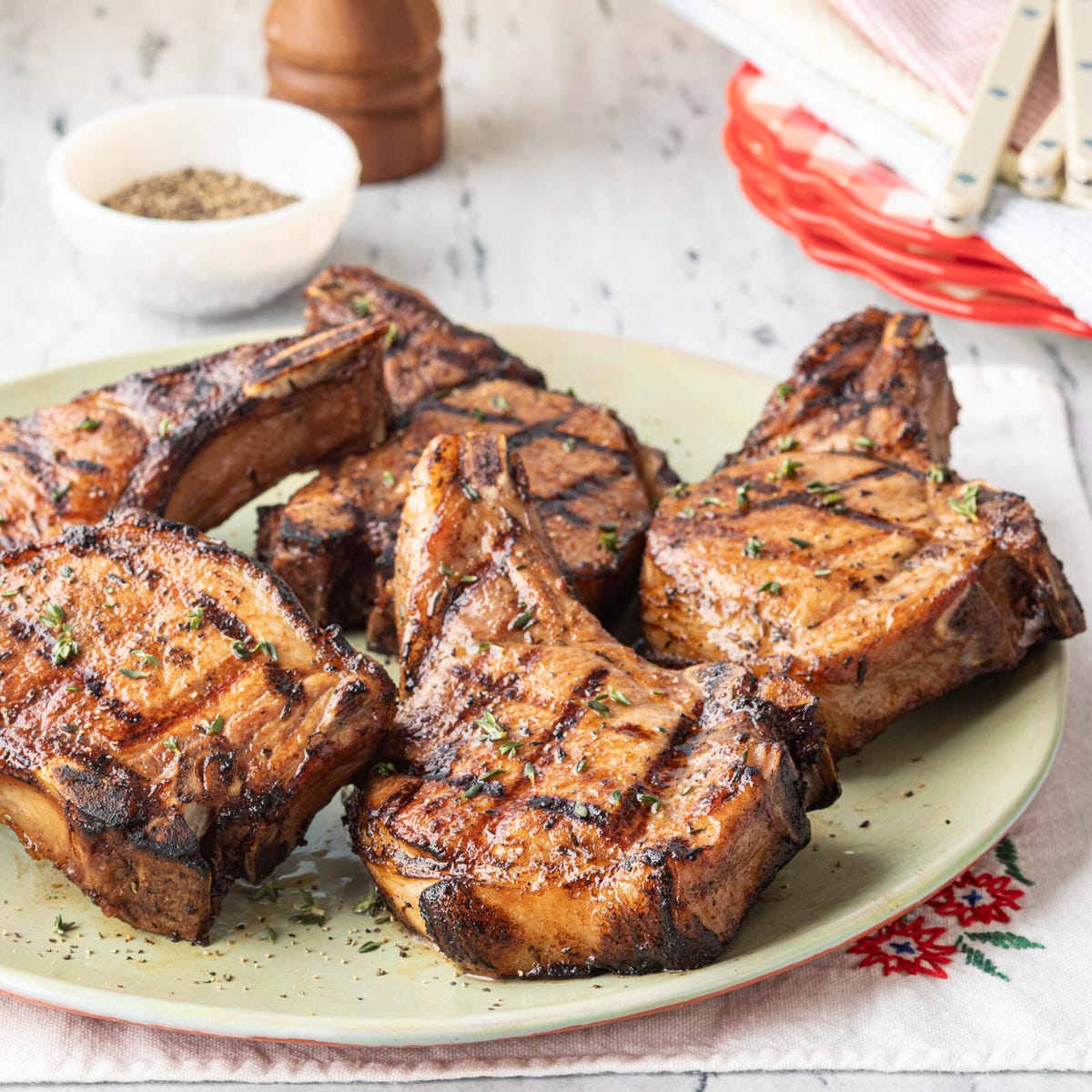 By Josh Miller
These grilled pork chops will have friends and family declaring you the king (or queen!) of the cookout! While there's no shortage of delicious grilling recipes out there, these easy-breezy pork chops are a keeper, thanks to an easy marinade that's made from pantry ingredients. They're delicious on their own, but don't miss out on topping them with this delicious mango salsa!
How long can I marinate pork chops?
Similar to steak, pork holds up well to acidic marinades. An hour is enough to impart a good layer of flavor, but these can be marinated overnight for even more flavor.
What marinade will tenderize pork chops?
It depends on what flavors you like, but generally, a good marinade for grilling is a balance of salt, acid (citrus juice or vinegar), seasonings (herbs, garlic, and spices), heat (if you like it!) and a little bit of sweetness to promote browning and round out the flavors. A little bit of fat (any oil will do) helps the protein absorb the marinade and prevents sticking during grilling.
Can I customize this marinade?
Be our guest! Use salt instead of soy (just in less of an amount: aim for about 1 teaspoon per pound of meat), and use any vinegar or citrus as a substitute for apple cider vinegar. Love honey or maple? Try that instead of brown sugar. Adore fresh garlic? Smash some cloves and throw them in. Craving heat? Add a dash of hot sauce or cayenne pepper. Marinades are fun to play with and super forgiving, so let your flavor creativity run wild!
What type of pork chops are best for grilling?
The best bet for a tender grilled pork chop is to buy bone-in pork chops that are at least 1 inch thick. The thickness is important—it buys you time to get a nice crust on the outside without overcooking the inside.
How can you tell if pork chops are done?
The FDA recommends that pork chops be cooked to 145°, colored a slight rosy pink in the middle. In fact, for extra insurance, you can remove the pork from the grill when an instant read thermometer reads over 140° in the thickest part. Tent them with foil and the internal temperature will rise as the meat rests.
Ingredients
6bone-in pork loin chops (about 1-inch thick)
1/2 c.reduced sodium soy sauce
1/4 c.apple cider vinegar
2 tbsp.olive oil
2 tbsp.light brown sugar
2 tsp.smoked paprika
1 tsp.garlic powder
1 tsp.dried thyme
Salt, for seasoning
Ground black pepper, for seasoning
Fresh thyme, for garnish
Directions
1

Place the pork chops in a 13×9-inch baking dish. Set aside.

2

In a medium bowl, stir together the soy sauce, vinegar, olive oil, brown sugar, smoked paprika, garlic powder, and thyme. Pour the marinade over the pork chops; cover and let them marinate for at least 1 hour or up to overnight, flipping halfway through your desired marinating time.

3

Remove the pork chops from the refrigerator 30 minutes before grilling. Meanwhile, pre-heat the grill to medium-high heat, 400° to 450°. Oil the grill grates well. Remove the pork chops from the marinade; discard the remaining marinade

4

Grill the pork chops uncovered until grill marks appear, 5 to 7 minutes. Turn the chops and grill until an instant-read thermometer inserted in the center registers 145°, 5 to 7 minutes more. Remove the pork chops from the grill and cover with foil; let rest 10 minutes.

5

Season the pork chops with more salt and pepper just before serving. Garnish with fresh thyme, if you like.
About Post Author