Old-Fashioned Thanksgiving Tradition You'll Only Find in the South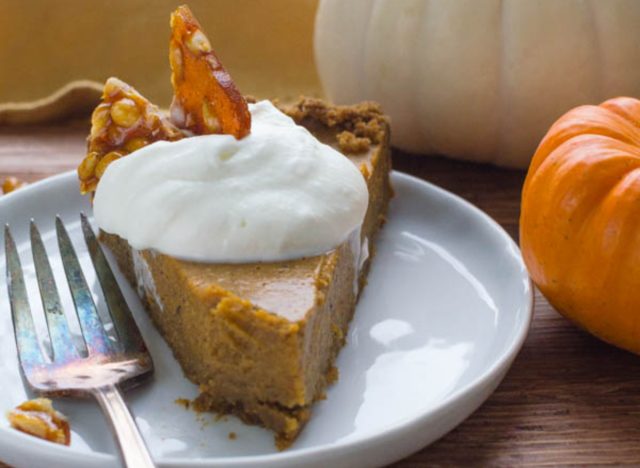 Many of us are familiar with the story of the first Thanksgiving. Frequently, when we see images of the Wampanoag tribe breaking bread with the Pilgrims in a pastoral New England setting, a cornucopia of classic Thanksgiving staple dishes is present: turkey, mashed potatoes, cranberries, and pumpkin pie. And while other regions of the U.S. may have found ways to add their own flair to Thanksgiving dinner over time, it's safe to say that when it comes to flavorful, scrumptious down-home cooking—much like college football—the South is in a league of its own.
There's much gratitude for this Thanksgiving tradition that you will only see in the South. Though Southern hospitality is as timeless as your grandmama's pearls, don't be surprised if you're not too keep on sharing as you go for a second and third helping of this delectable dish. Cook up any of these dishes and serve them up alongside a college football TV binge, and y'all will have yourself a Thanksgiving win-win.
Bourbon Pumpkin Pie
DESCRIPTION
This bourbon pumpkin pie recipe is simple to make, and topped with a stellar bourbon whipped cream.
---
BOURBON PUMPKIN PIE
3/4 cup

 

packed light brown sugar

2 teaspoons

 pumpkin pie spice (*or see substitute below)

1/2 teaspoon

 

salt

2

 

large eggs

1

 can (15-ounces) pumpkin puree

1

 can (12-ounces) evaporated milk

2 tablespoons

 

bourbon

1

 unbaked 9-inch pie crust (see recipe/tutorial here for how to make a pie crust)

(optional) bourbon whipped cream, recipe below
BOURBON WHIPPED CREAM
1 cup

 heavy cream

1 tablespoon

 bourbon

1 tablespoon

 powdered sugar

1/4 teaspoon

 vanilla extract
---
INSTRUCTIONS
TO MAKE THE BOURBON PUMPKIN PIE:
Preheat oven to 425° F.
Whisk together sugar, cinnamon, salt, ginger and cloves in small bowl, and set aside.
In a large bowl, whisk the eggs and the pumpkin until combined.  Whisk in the sugar-spice mixture until combined.  Then gradually stir in the evaporated milk and bourbon until combined.  Pour the mixture into the unbaked pie shell.
Bake for 15 minutes. Then reduce temperature to 350° F, and bake for an additional 40 to 50 minutes or until toothpick inserted near center comes out clean.
Cool on wire rack for 2 hours, then refrigerate until ready to serve.  (The pie will slice easier if chilled.)
Serve with bourbon whipped cream or your desired toppings.
TO MAKE THE BOURBON WHIPPED CREAM:
Using an electric mixer, beat all of the ingredients together in a large bowl until the cream is whipped and forms soft peaks.  Serve, or cover and refrigerate for up to 2 hours.
---
NOTES
*If you don't have pumpkin pie spice, you can substitute 1 teaspoon ground cinnamon, 1/2 teaspoon ground ginger, 1/4 teaspoon cloves, 1/4 teaspoon ground nutmeg, pinch of allspice
Pumpkin pie recipe adapted from Libby's.