A southern institution despite the fact that the original recipe may have originated in Chicago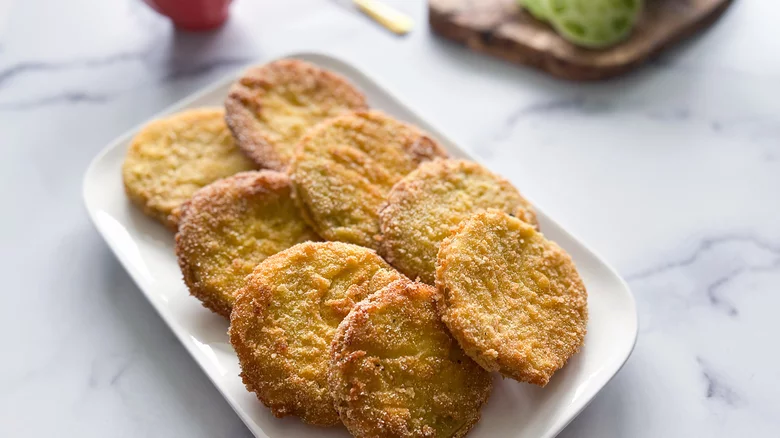 BY ERIN JOHNSON
Fried green tomatoes are seen as a southern institution despite the fact that the original recipe may have originated in Chicago. Nevertheless, once the dish became the name of a popular '90s tearjerker movie set in Alabama, it was soon established as what recipe developer Erin Johnson calls "a southern summer staple." The problem with green tomatoes is that they aren't always available from the supermarket, so you may need to grow your own or try begging a few from a generous tomato-growing neighbor.
Fried Green Tomatoes Recipe
Ingredients
3 green tomatoes
½ cup buttermilk
1 egg
½ cup cornmeal
½ cup panko breadcrumbs
1 cup flour
2 teaspoons salt
½ teaspoon pepper
½ teaspoon onion powder
½ teaspoon garlic powder
¼ teaspoon smoked paprika
vegetable oil, for frying
Directions
Cut the green tomatoes into slices ¼-inch thick.
Sprinkle the sliced tomatoes with salt and allow them to sit for at least 5 minutes.
Mix the egg with the buttermilk.
Combine the cornmeal and panko.
Mix the flour with the seasonings.
Blot the tomatoes with a paper towel to remove any moisture.
Coat each tomato slice in seasoned flour, then dip in the egg mixture, then coat with the cornmeal mixture.
Repeat the whole process with the same tomato slice a second time before moving on to the next slice.
Place each breaded tomato on a wire rack.
Heat ⅛-inch of oil in a heavy skillet.
When the oil begins to shimmer, add the tomatoes to the pan, working in batches, if necessary, to ensure that they do not touch.
Fry the tomatoes for 3 minutes, then flip them and fry for an additional 3 minutes, or until golden brown. Serve immediately.
https://www.mashed.com/934911/fried-green-tomatoes-recipe/
About Post Author