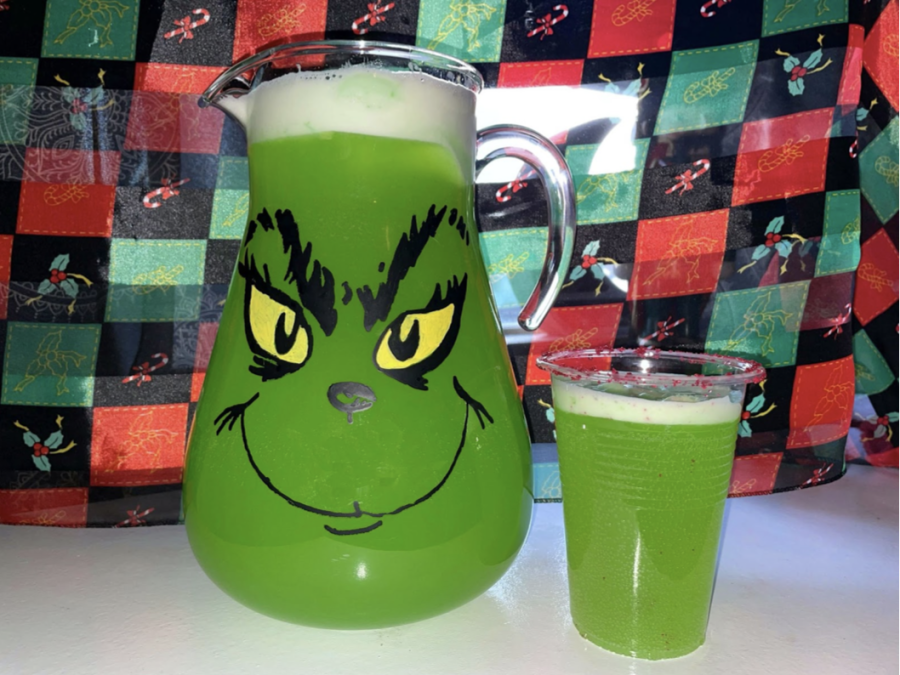 One of my favorite movies growing up was How The Grinch Stole Christmas, starring Jim Carrey. Every Christmas season, my family picks our favorite Christmas movies and watches them after we open our gifts. It is one of my family traditions. For our first movie this year, I decided to play the Grinch. My niece and nephew have never seen the Grinch and they were unsure about watching a green creature attempting to ruin Christmas. To help put them into the holiday spirit, I decided to make a grinch punch.
Grinch Punch is a fun family drink to make with the kids at Christmas. All you need is four ingredients and about 2 minutes, and you're all set for a new holiday treat. It's a cross between a drink and a dessert.
Christmas traditions are so important to our family, and making this each year is something we look forward to. Looking for even more green, Grinch fun? You could also make Grinch Cookies, Grinch Pretzels and Grinch Popcorn. So many festive ways to celebrate our favorite holiday villain.
INGREDIENTS YOU'LL NEED
Lime Sherbet. Did you know sherbet is sorbet but with cream added? I just found that out and it's always been one of my favorite treats.
Green Berry Rush Hawaiian Punch. You'll find this in the juice section with the usual red and blue punch options.
Sprite. To save on some sugar intake, you can use Sprite zero.
Pineapple Juice. Using this adds a really great tropical flavor but I have made this drink without it, so it's optional if pineapple isn't your thing.
Red Sugar Sprinkles. This is just to rim the glass so you can skip if if you need to.
GRINCH PUNCH RECIPE
If you've ever made a punch recipe before, this will look pretty familiar. The basics are all here: soda, juice and ice cream. Once you've made it once or twice, you'll remember it forever.
Scoop. Dish out the sherbet into a punch bowl or large pitcher. This doesn't have to be perfectly uniform or pretty.
Pour. Then, pour half of your juices and half of your Sprite over the sherbet.
Rim. If you want to rim your glass, just pour some sugar in a dish, dip your glass into some water then dip into the sugar. Feel free to skip this step if you'd like.