Trudeau's speech on Israel set a dangerous tone here at home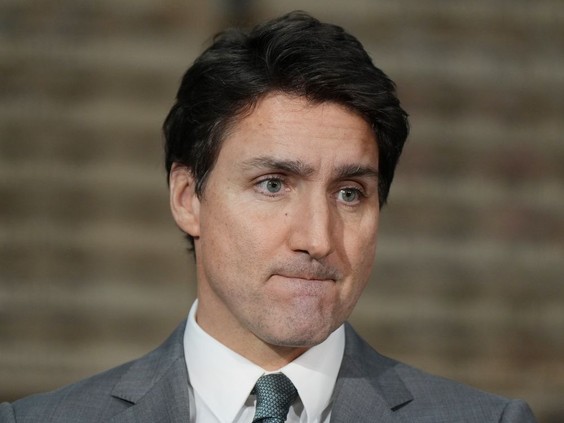 Brian Lilley
Tough times call for tough leaders, but sadly, here in Canada, we have Justin Trudeau.
On Tuesday, Trudeau did his breathy best to sound tough as he invoked dramatic pause after dramatic pause to denounce Israel.
His comments, which will only fuel the rampant anti-Semitism in Canada, are being denounced across the country and by all sides in Israel.
Trudeau's warning to the Israeli government was fully scripted and came unprompted in the middle of a news conference about a new battery plant in Maple Ridge, British Columbia.
"The human tragedy that is unfolding in Gaza is heart wrenching, especially the suffering we see in and around the Al Shifa Hospital," Trudeau said in a studied and dramatic tone.
"I have been clear that the price of justice cannot be the continued suffering of all Palestinian civilians. Even wars have rules and all innocent life is equal in worth, Israeli and Palestinian. I urge the Government of Israel to exercise maximum restraint. The world is watching on TV and social media."
"All innocent life is equal in worth, Israeli and Palestinian. I urge the government of Israel to exercise maximum restraint," Prime Minister Justin Trudeau says as he comments on the ongoing Israel-Hamas war.
#cdnpoli pic.twitter.com/WKAq5kNbl3

— CPAC (@CPAC_TV) November 14, 2023
And with that, Trudeau made it clear that Canada's current policy is to believe propaganda from Hamas and lecture Israel based on that propaganda.
The Al Shifa Hospital that Trudeau is concerned about is at the epicentre of the Israeli mission in Gaza because it is the epicentre of the Hamas command centre in that area. As they have been doing for years, Hamas is using the patients at the hospital as human shields while their commanders hide in the hospital complex and arms and munitions are hidden below.
The lectures Trudeau gives about international law, about rules of war, about the world watching are reserved for one side only, Israel.
"We're hearing the testimonies of doctors, family members, survivors, kids who've lost their parents. The world is witnessing this killing of women and children of babies. This has to stop," Trudeau said.
Justin Trudeau proves once again that he is a moral garbage heap https://t.co/pemTe5xTgL

— Ben Shapiro (@benshapiro) November 15, 2023
Another warning for Israel, before a quick word about Hamas.
"Hamas needs to stop using Palestinians as human shields. They need to release all hostages immediately and unconditionally," Trudeau said.
"Hamas has said that they would commit horrors like October 7 over and over again, the same violent attack that killed so many civilians including Vivian Silver. So right now, we need the violence to stop urgently so that Palestinians can get access to life-saving medical services, food, fuel and water so that all hostages can be released so that all Canadians and other nationals can leave Gaza."
The warning to Hamas just wasn't as forceful as the warning to Israel. There was no call for Hamas to abide by international law or to show "maximum restraint."
No, the strong words, the condemnations, that was for Israel while Trudeau gave Hamas a gentle nudge to release hostages and end violence so that aid could be delivered. Yet, the truth is that now, as before Israel's counter-offensive into Gaza, much of the aid is being stolen by Hamas.
The Al Shifa Hospital that was running out of fuel to operate a few days ago was offered sufficient fuel by Israel, but Hamas leadership rejected that and refused to allow it to be delivered. Just like he didn't acknowledge that Hamas is using the hospital as an operating base, Trudeau didn't acknowledge it is Hamas that is often the barrier to aid getting to those in need.
His call for a "sustained pause" in the fighting so that there could be peace and a road back to a "two-state solution" sounded hopelessly naïve. One side, Israel, will accept a two-state solution while Hamas' stated goal is to eliminate Israel.
Canada used to be considered a leader on the world stage, we aren't anymore. Other leaders don't seek the counsel of Canada's prime minister any longer.
Statements like the one Trudeau made on Tuesday show you why.
His words will have limited, if any, impact globally. But here at home, Trudeau's words, especially about the hospital, will feed into the anti-Semitism already on display, including the violent attacks on students, schools, synagogues and businesses.
Trudeau should have known better.
https://torontosun.com/opinion/columnists/trudeaus-speech-on-israel-set-a-dangerous-tone-here-at-home
About Post Author