Few things feel as special—and as satisfying—as a well cooked beef short rib.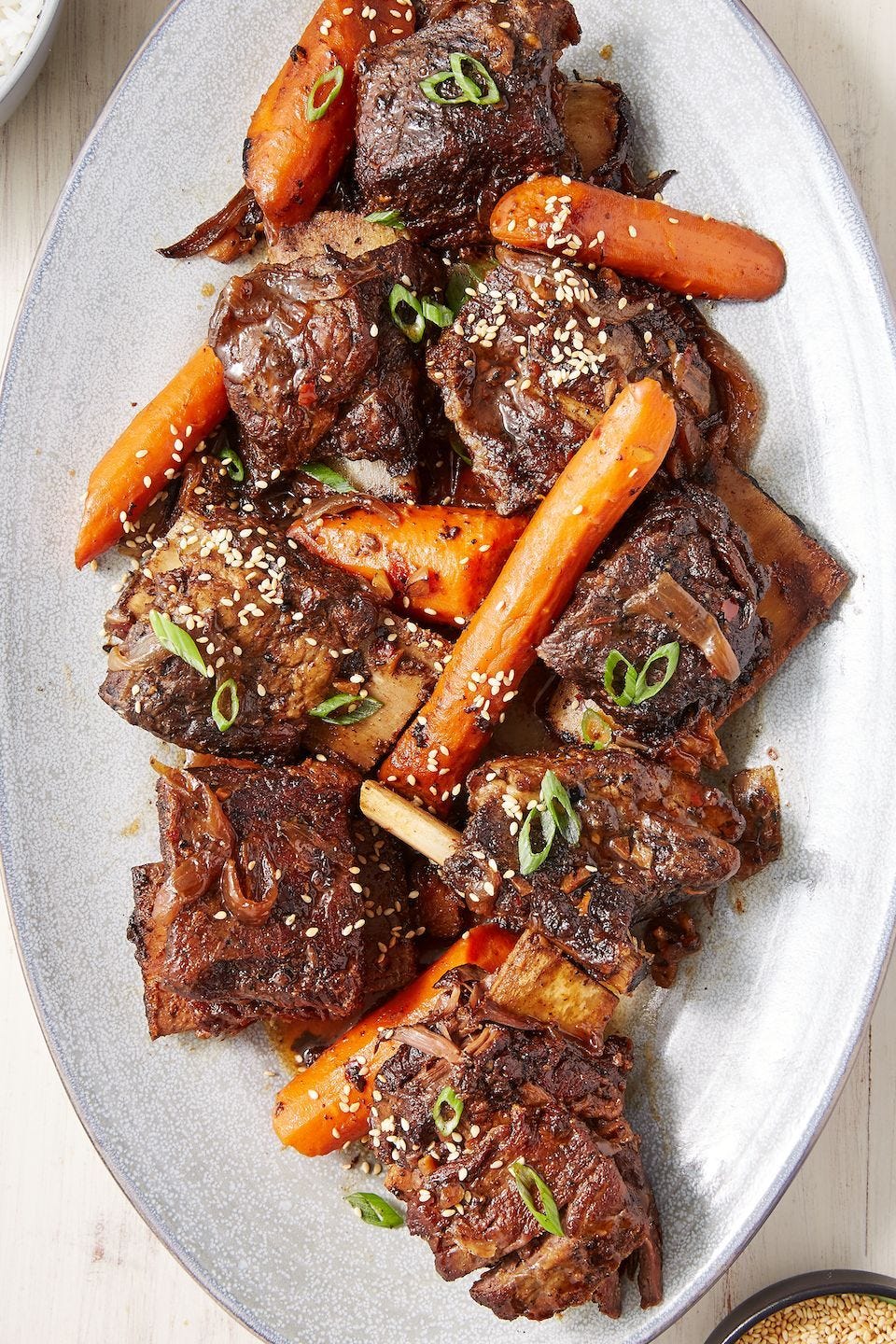 Slow-Cooker Short Ribs
Few things feel as special—and as satisfying—as a well cooked beef short rib. This version is fall-off-the-bone tender and insanely flavorful, thanks to a quick sear before slow cooking and a Korean-inspired sauce that would make anything taste good.
These are so easy to meet we have no doubt in our mind these will become a show-stopping go-to. This is also the type of dish that might even get better after a night in the fridge allowing all of the flavors to meld together. Stored in an airtight container  this can last up to 5 days, but we'll be surprised if it lasts that long.
Ingredients
2 tbsp.vegetable oil
5 lb.bone-in beef short ribs, cut crosswise into 2-inch pieces
Kosher salt
Freshly ground black pepper
1/2 c.low-sodium soy sauce
1/2 c.water
1/4 c.packed light brown sugar
1/4 c.rice vinegar
2 tsp.sesame oil
1 tsp.crush red pepper flakes (optional )
3Carrots, medium, peeled and chopped into thirds
1yellow onion, large, sliced into 1/2 inch wedges
5cloves garlic, crushed
1 1/2inch piece ginger, thinly sliced
Toasted sesame seeds, for serving
2green onions, thinly sliced, for serving
Cooked short grain white rice, for serving
Directions
Step 1
Season short ribs with salt and pepper. Heat oil in a large Dutch oven over medium-high heat. Working in 2 batches, brown short ribs on all sides, about 8 minutes per batch. Transfer short ribs to slow cooker and pour off all but 3 tablespoons drippings from pot.
Step 2
Meanwhile, whisk soy sauce, water, brown sugar, rice vinegar, sesame oil, and red pepper flakes.
Step 3
Add carrots and onions to pan, and cook, mixing occasionally until browned. Add garlic and ginger and brown until fragrant, 1 minute more. Remove from heat and deglaze with reserved soy sauce mixture, scraping up any brown bits from the bottom. Pour this mixture into the slow cooker.
Step 4
Cover slow cooker and cook on low for 9 to 10 hours, or on high for 4 to 5 hours, or until the meat is very tender and falling off the bone.
Step 5
Garnish short ribs with toasted sesame seeds and green onions. Spoon sauce over rice and serve.
https://www.delish.com/cooking/recipe-ideas/a29492060/slow-cooker-short-ribs-recipe/
About Post Author