What to Get for the Baby Who Has It All? $230 Scented Water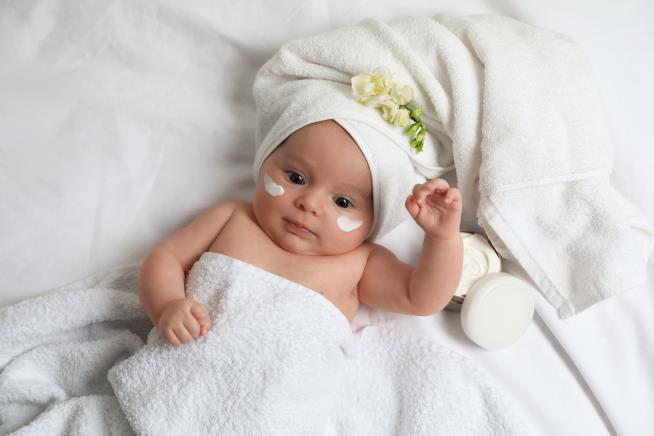 By Jenn Gidman
Babies are known for having skin that fills estheticians with envy—there's a reason for the phrase "as smooth as a baby's bottom"—but one luxury brand thinks the youngest set needs a bit more help when it comes to their dermatologic needs. People reports on Baby Dior, a new "complete skin-care line for little ones," per a release. The Dior site describes the line as a "tender, poetic collection, an ode to the first steps and emotions" of infants that's reminiscent of the Baby Dior clothing line. People notes that the four-item collection is a "reimagining" of Dior's baby perfume line of the '70s.
"Christian Dior evoked his childhood many times as a very happy and joyful period of his life," Francis Kurkdjian, the perfume creation director who joined the company in October 2022, tells Women's Wear Daily. "The scent and the baby care line were discontinued, and I was eager to bring it back to life as a tribute." The new products include a pear-scented face and body moisturizer, which sells for $115; a $95 face, hair, and body foam; a $95 cleansing water; and Bonne Etoile, a scented water with "hints of pear, wild rose, and white musk" that retails for $230.
Reaction to Dior's new offerings quickly emerged online, per the Independent. "Good luck finding a baby that has $250 to spare," one commenter joked. Another wrote: "Water for 230 dollars?? It better have diamonds in it." Yet another observed, "Rich people be so bored." Not everyone was snarking on the Dior line, however, with one cheerfully posting, "That will be super great and cute." Those interested in scooping up one or all of the items from the Baby Dior line can do so online, or at select Baby Dior and Parfums Christian Dior boutiques.
https://www.newser.com/story/342573/dior-releases-luxury-skin-care-line-for-babies.html
About Post Author