Court May Take 'Careful Scalpel' to Trump Gag Order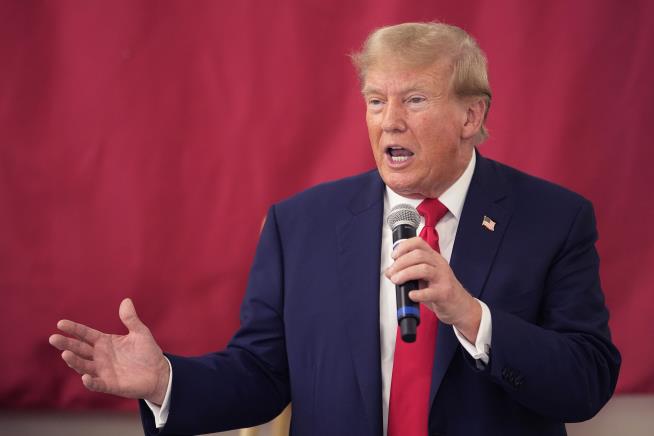 By Rob Quinn
A federal appeals court heard arguments Monday on the gag order in Donald Trump's federal election interference case—and while no immediate ruling was issued, the judges appeared ready to narrow the order instead of completely lifting it. The three-judge DC Circuit Court of Appeals panel expressed concerns about limiting the speech of the Republican front-runner during his presidential campaign, Politico reports. Judge Patricia Millett said the order preventing Trump from criticizing prosecutors, Judge Tanya Chutkan's staff, or possible witnesses could make it difficult from Trump to defend himself in a presidential debate.
"He has to speak 'Miss Manners' while everyone else is throwing targets at him?" Millett said. The AP reports that the judges, all Democratic appointees, "asked skeptical and at times aggressive questions of attorneys on both sides" while considering whether to reinstate the order, which has been temporarily frozen. Trump lawyer D. John Sauer said the order "sets a terrible precedent for future restrictions on core political speech." Judge Cornelia Pillard asked Sauer whether he thought any restrictions on Trump's speech should be allowed, saying, "I don't hear you giving any weight at all to the interest in a fair trial."
Cecil VanDevender, a lawyer with special counsel Jack Smith's office, argued that Trump's " well-established practice of using his public platform to target his adversaries, including trial participants in this case, poses a significant and immediate risk to the fairness and integrity of these proceedings," per CNN. Millett told VanDevender that there is.a " very difficult balance" between Trump's First Amendment rights and the need to protect the trial process. She said judges "have to use a careful scalpel here and not step into really sort of skewing the political arena." If the panel decides to reinstate the gag order, Trump is expected to take the issue as far as the Supreme Court.
https://www.newser.com/story/342870/court-may-take-careful-scalpel-to-trump-gag-order.html
About Post Author