This Kroger in Midvale Plaza didn't have bar codes or instant coffee in 1957, but it offered a lounge for shoppers to gather.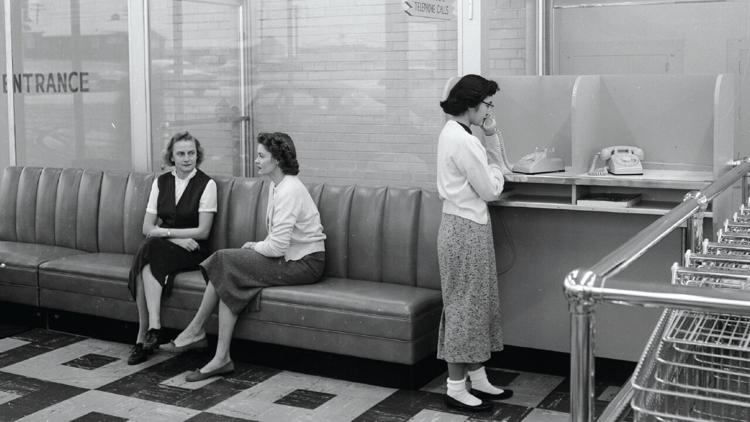 The first "self-serve" supermarket — a major innovation defined by aisles lined with inventory that you chose and brought home yourself — was a Piggly Wiggly that opened in Tennessee in 1916. Before that, we ordered delivery or asked clerks to hand us staple items over the counter at small grocery or general stores — think Oleson's Mercantile from "Little House on the Prairie" — to supplement the food we grew, or bought from the local baker or farmer. But by 1960 (three years after this Arthur Vinje photo was taken), Americans bought 70% of their food from supermarkets like the Kroger pictured here. And by Americans, we mean women.
In 1957, Kroger — already a billion-dollar-a-year Cincinnati company and major player in Madison's grocery scene, with five locations here by decade's end — opened the store on Midvale Boulevard that's pictured here. That year, shoppers could buy milk for $1 a gallon. A pound of hamburger cost 30 cents, and a stick of butter would set you back 75 cents. If the penny candy failed to cheer them up, sniffling children could be comforted at home with Campbell's chicken noodle soup for a dime per can. TV dinners had hit the market just three years earlier, but Swanson sold 10 million turkey dinners that first year.
Things you probably couldn't buy in 1957: Instant coffee (mostly considered lazy or a last resort until popularity surged in the 1960s), items with standardized nutrition labels (1973), or Lean Cuisine (1981, and only if you were lucky — demand was so high at first that Nestle rationed the figure-friendly frozen meals). You couldn't scan a bar code until the early '70s, and although modern credit cards were introduced a year after this photo was taken, most grocery stores didn't accept them until the mid '90s — which was fine for the women pictured, as they couldn't get a credit card in their own name until 1974 anyway.
This new Kroger in Midvale Plaza boasted a lounge as a special feature. Here, women could gather and socialize, even make phone calls. "Leave It to Beaver" began airing on black-and-white televisions this same year, depicting gender roles that would soon be seriously challenged by the second-wave feminism of the '60s. Where women like those pictured here may have rebelled by sliding frozen dinners into ovens to serve on aluminum TV trays, their daughters would soon use gathering spaces like feminist-owned bookstores, credit unions, restaurants — and, who knows, maybe grocery store lounges — to plan their revolution.
https://www.channel3000.com/madison-magazine/one-stop-shop-the-evolution-of-the-supermarket/article_f8ac7570-8329-11ee-8d7e-a7e48755855d.html
About Post Author