'These kids need us:' 30 kids adopted in one day at St. Louis County courts celebration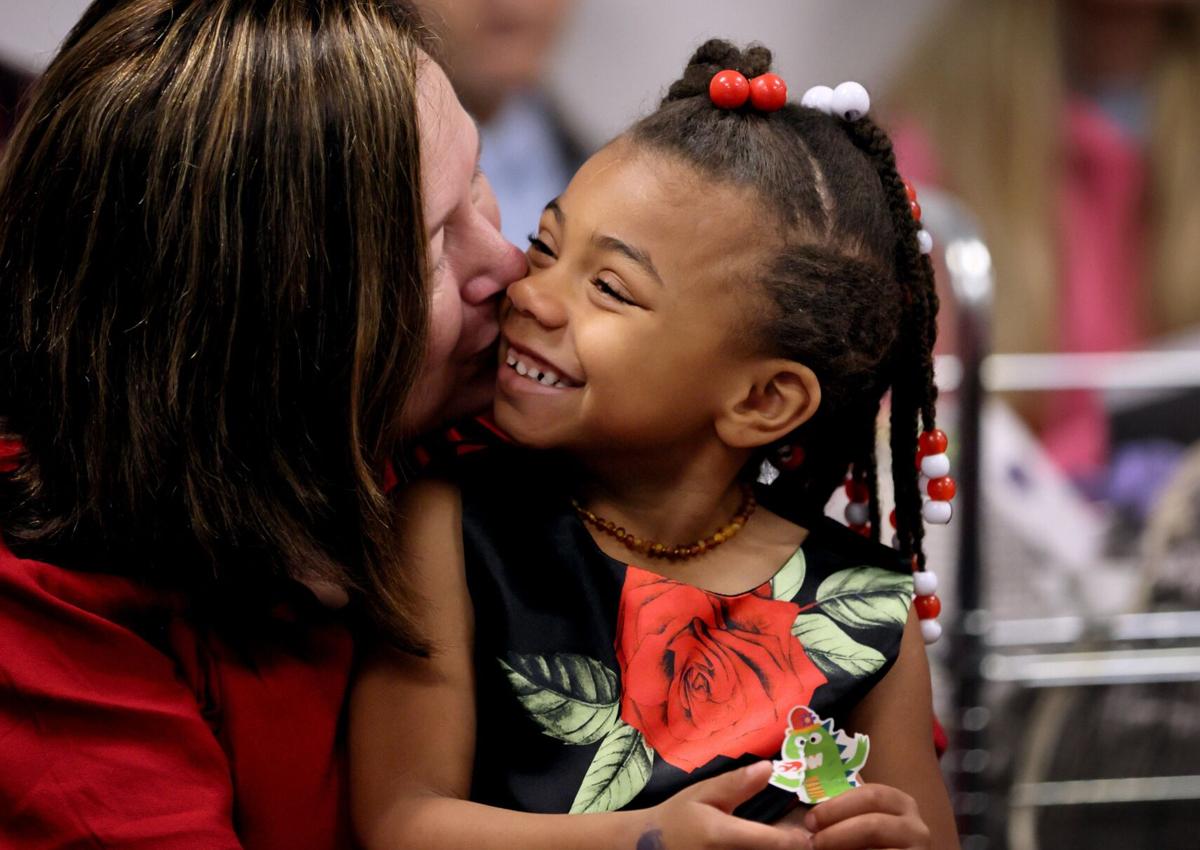 CLAYTON — Mary Thomas fought back tears Saturday when she was asked before a packed St. Louis County courtroom if she and her husband were prepared to raise the three kids sitting by her side as their own.
"Absolutely, yes," she said with emotion. She held the youngest, Hanzi, in her arms. The 4-year-old girl dressed in a long party dress decorated with red flowers perked up when she heard her name read in the court.
"That's me!" she said.
Hanzi and her siblings were among 30 children who had adoptions finalized Saturday in the St. Louis County Courthouse as part of the county's first National Adoption Day event since 2015. Courts across the country take part in the annual event launched in 2000, opening their doors on the Saturday before Thanksgiving to finalize adoptions and bring attention to the foster care system.
St. Louis Family Court Commissioner Catherine W. Keefe said at the event that reunification with parents is always the first goal of foster care, but when that's not possible or in the best interest of the children, adoptions by family members or other foster parents can be the best option.
"Family is formed in a variety of ways," Keefe said. "It's more than who shares DNA. These people are there for these kids. They are all family."
But, Keefe said, the state is still in great need of more foster parents, especially those willing to care for older children and teens. The shortage can sometimes lead to kids being placed in 30-day shelters or other temporary accommodations until a spot in foster care opens, she said.
Mary Thomas and her husband, Paul, of Affton, officially adopted three of five siblings Saturday — Hanzi, Jakobe and Jordan — who they have been caring for as foster parents for more than four years. The children's other two siblings were adopted simultaneously by another foster parent, Jill Schmalz, of Brentwood, who plans to raise the kids in constant connection with their siblings.
"We call each other our 'sister moms,'" Mary Thomas said Saturday.
Thomas said she and her husband have fostered 15 children over the last 6 years, along with raising their four biological children.
"We just wanted to make sure the siblings could stay together as much as possible," she said. "My dad's siblings were split up in foster care and didn't have much of a relationship. I never want that for my kids. It's part of why I do what I do."
Adoptive parents Jamie Viviano and her husband, Tron Williams, were accompanied at the event Saturday by a large family all dressed in T-shirts with the words "adoptive" and "foster" crossed out and the word "son" written in bold below.
Viviano and Williams were nervously waiting for their turn Saturday to finalize the adoption of 3-year-old Cashous as the toddler was playing in the courthouse hall decorated with balloons and full of treats for the kids. The couple raised the toddler, who is the child of a relative, since they brought him home at 3 weeks old from the neonatal intensive care unit.
When a child is removed from a parent's custody, often because of abuse or neglect, Missouri Department of Social Services looks to family members to care for children first before moving them to other foster homes. But even then, it's a long legal process.
Viviano said it took years of hearings and three trials before it was settled that Cashous would permanently remain in their care. As foster parents, every decision, including getting the child's hair cut or going on trips, needs to be approved.
Viviano recalled not knowing what to think when she got a call from a caseworker that the infant needed care. She and her husband already had three older children, now ages 12 to 19, but the smiley child soon became a beloved little brother, she said.
Cashous has had years of medical complications, including cerebral palsy.
"You've got to have a lot of patience to be a foster parent," Viviano said. "But these kids need us."
Just then, the 3-year-old ran up begging Viviano to unwrap a chocolate bar given out at the event.
"OK, OK," she said smiling and patting his cheek.
Those interested in becoming foster parents can contact the Missouri Children's Division at 800-554-2222 or by email at Moheartgallery@raisethefuture.org.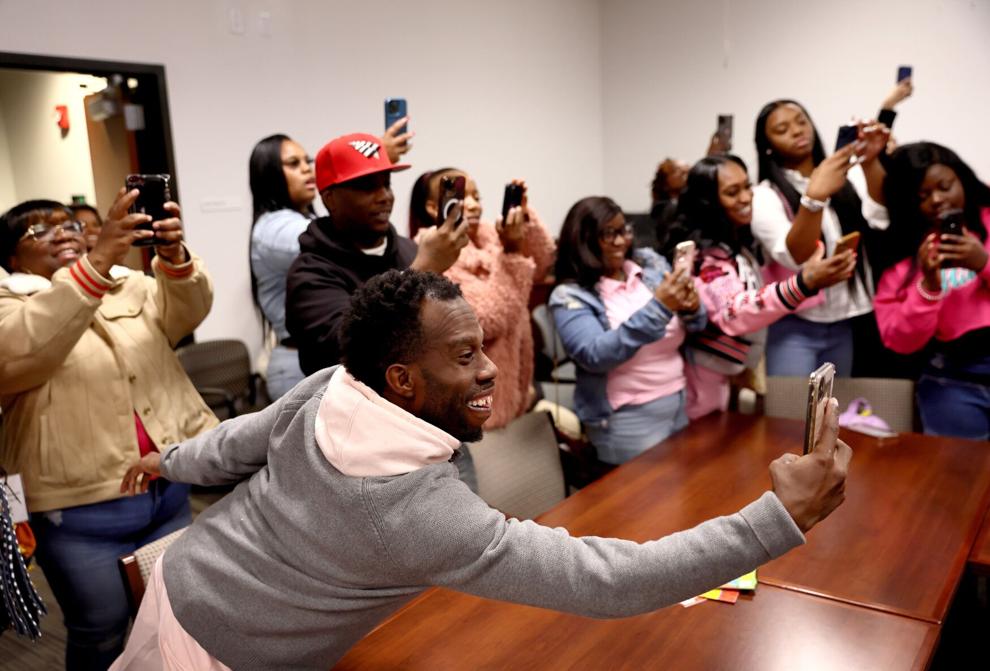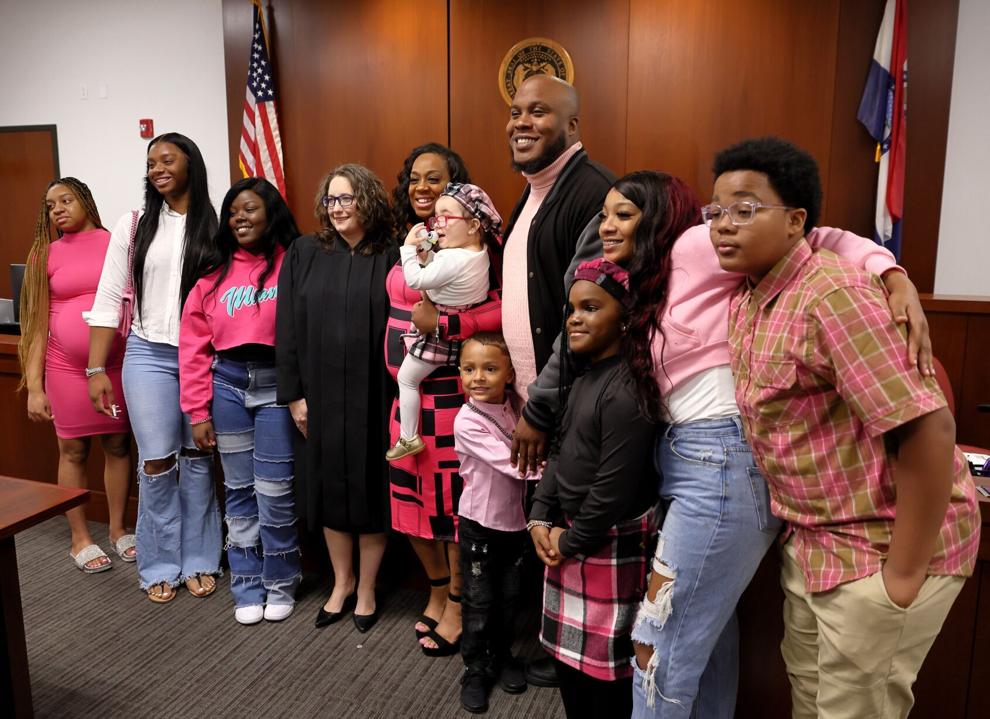 https://www.stltoday.com/news/local/metro/these-kids-need-us-30-kids-adopted-in-one-day-at-st-louis-county-courts/article_2eedb5ee-8655-11ee-877b-1f8224be951a.html#tracking-source=home-top-story
About Post Author