Potential for 'significant lake-effect snow' over Thanksgiving as leaders prepare for winter storms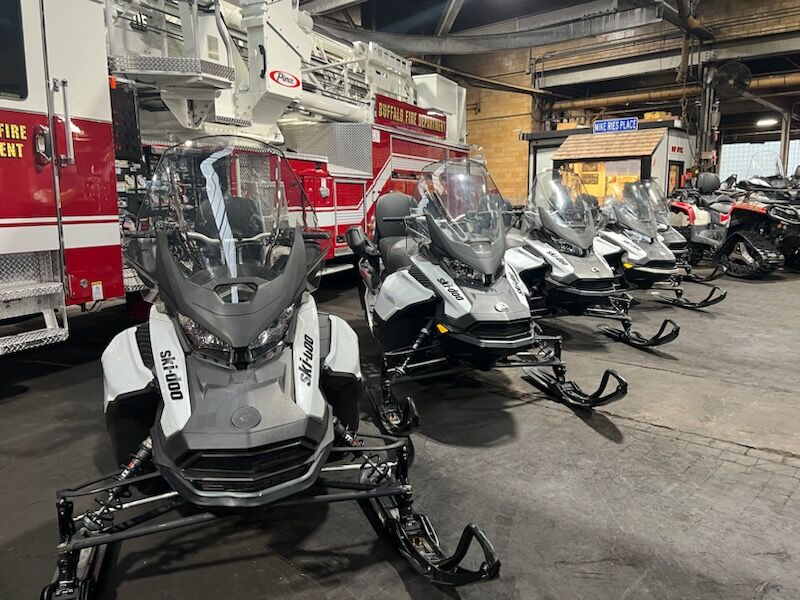 Maki Becker
Friday morning, on the anniversary of the first of two major winter storms that paralyzed Western New York at the end of last year, Buffalo Mayor Byron W. Brown and his commissioners gathered the local media to the Buffalo Fire Department garage to show off the newest additions to the city's snow-fighting arsenal: five snowmobiles, a tracked utility task vehicle and a brand new aerial truck for Ladder 5 in the Larkinville District.
He also introduced the city's new emergency services manager, Thomas Luby, a former New York City Fire Department captain with decades of experience in emergency management, and new fleet manager, James J. Cross, who will oversee the city's vehicles and equipment.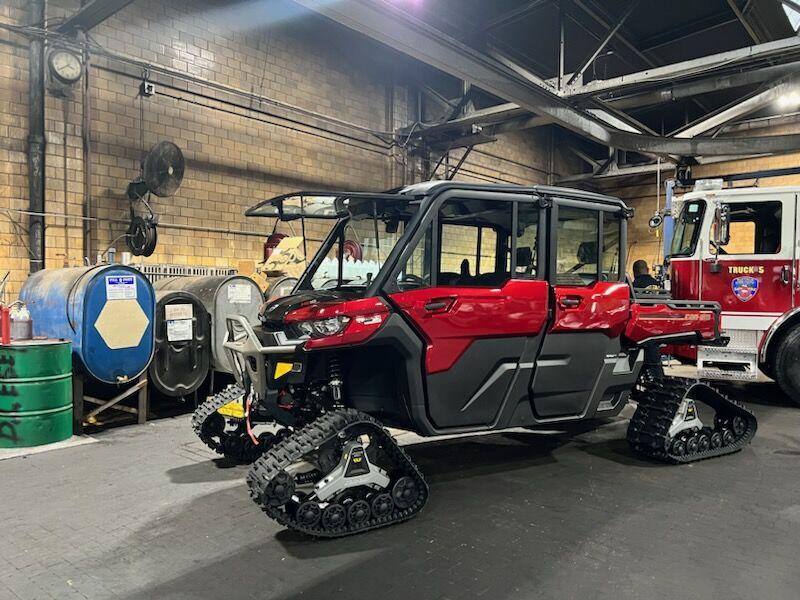 The equipment and the new hires were part of the city's new plan for responding to an extreme winter storm – such as the deadly blizzard that claimed 47 lives in the region over Christmas weekend.
During the news conference, it was raining and warm – 60 degrees – with no sign of winter.
But that is expected to change fast – and just in time for another major holiday when lots of people are traveling or trying to get home.
While forecasts are still uncertain, meteorologists were sounding the early warning that "significant lake effect snow" was possible toward the end of next week – around Thanksgiving Day.
"Travel for the holiday could be impacted," the National Weather Service office in Buffalo said in a "hazardous weather outlook," an alert meant to signal to the public that they should keep close tabs on weather news. "There is still large uncertainty in the placement of where the heaviest snow bands will develop and how persistent they will be once they form. Continue to monitor for later forecasts and statements."
Gov. Kathy Hochul urgently warned New Yorkers, especially in Buffalo and Watertown, to rethink traveling right around the Thanksgiving holiday.
"We're heading into the busiest travel season of the year," Hochul said. "And, of course, Mother Nature is preparing to slam us with a massive snowstorm right here in New York at the prime peak time for holiday travel next Wednesday into Thursday. … And I wanted everyone to know that we're taking this very seriously. … Do not make next Wednesday be your main day to travel, or else you'll get stuck. You'll be either stuck at home not able to travel, or worst case there, you could be stuck on one of the roads or the New York State Thruway."
It was too soon to know Friday where lake-effect snow bands might set up or when. But Buffalo officials said the new pieces of equipment are the kinds of things they wish they had.
Last year, the Buffalo Fire Department only had two snowmobiles and one tracked ATV, but the ATV was under repair at the time of the December blizzard. Multiple fire trucks got stuck in the heavy snow as firefighters tried in vain to get to 911 calls.
Now, they have five more snowmobiles, donated by Delaware North, which operates a large snowmobile tour company in Colorado, and a new UTV, which can hold up to six passengers. On UTVs, tires can be swapped with caterpillar-like tracks that can traverse over heavy snow. They are now waiting on three more UTVs, as well as trailers to haul them to the locations they are needed. Buffalo police are also awaiting six UTVs of their own.
About Post Author