Michigan bill would ban pet stores from selling dogs, cats, and rabbits to cut off puppy mills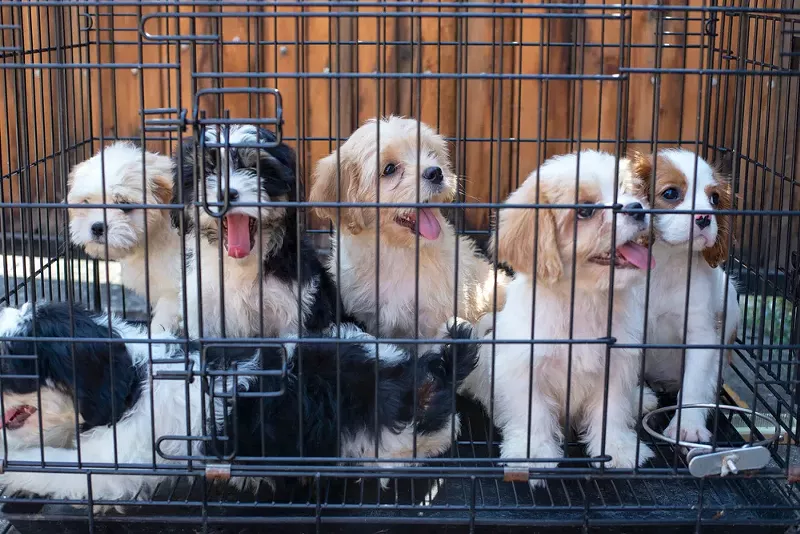 Hundreds of puppies sold at Michigan pet stores since 2021 have come from large, out-of-state breeders with a troubling history of raising animals in substandard, inhumane conditions, according to state and federal records.
Many of the state's 17 licensed pet stores imported puppies from large-scale breeders, also known as puppy mills, that had recently been cited by the U.S. Department of Agriculture, according to a Humane Society of the United States investigation obtained by Metro Times.
Puppies born in large breeding facilities are often inbred and housed in small, overcrowded, and squalid cages that expose them to genetic diseases, parasites, and deadly viruses, says John Goodwin, senior director of the Humane Society's Stop Puppy Mills Campaign. Goodwin says the nonprofit's investigation revealed "disturbing and gruesome information about where these puppies are coming from."
Pet stores frequently prefer to work with large breeders because they "have to keep their display cases full."
"Most puppies in pet stores come from puppy mills," Goodwin tells Metro Times. "The overwhelming majority do. And the more dogs a kennel has, the harder it is to care for each individual dog."
The investigation revealed that Michigan pet stores obtained dogs from at least 15 puppy mills with a history of violations that range from exposing dogs to harsh weather and cramming animals into feces-littered cages to failing to seek veterinary treatment when dogs have injuries, dental problems, and serious eye and skin infections.
At a Wisconsin puppy mill that sells dogs to Michigan pet stores, USDA inspectors found two poodles with advanced dental disease, and one had visible tooth roots. Mice were seen in the dogs' food and bedding, and some animals had fecal matter clinging to their coats.
At another Wisconsin puppy mill, inspectors found a dog that had not been treated for three large lacerations. At the same facility in December 2021, an inspector discovered that an entire litter of puppies had been attacked and killed by other dogs a day earlier.
Other Michigan pet stores have obtained their puppies from brokers, making it impossible to get information on the breeder.
Public records don't track dogs sold in Michigan from in-state breeders, but animal welfare groups say Michigan does not have a reputation for abusive breeders.
Democratic lawmakers in Michigan have seen enough and introduced a bold bill that would ban the sale of dogs, cats, and rabbits from all pet stores in Michigan by July 1, 2025. The idea is to end Michigan's cruel link to puppy mills and save consumers the heartache of buying a puppy that is prone to illness, says state Rep. Penelope Tsernoglou, D-East Lansing.
"It essentially shuts down the puppy mill-to-pet store pipeline," Tsernoglou tells Metro Times. "Sadly a significant number of animals that are sold in Michigan pet stores come from puppy mills."
Tsernoglou expects the bill to pick up momentum when lawmakers return to Lansing early next year. The bill has been endorsed by 60 Michigan-based pet shops and 21 veterinarians.
A vast majority of Michigan's pet shops don't sell puppies, so the stores that do have a model they can replicate, Tsernoglou says.
"Thousands of pet stores are successful at selling products and having a more humane model, so there's no reason to believe the others can't find a successful way," she says.
In 2017, California became the first state to ban the sale of dogs at pet stores. Since then, six other states have followed suit: New York, Maryland, Illinois, Oregon, Maine, and Washington. Similar bills have been introduced in Pennsylvania and Massachusetts.
More than 475 communities nationwide have passed similar ordinances, including Eastpointe, Fraser, New Baltimore, Royal Oak, St. Clair Shores, Berkley, Ann Arbor, Woodhaven, and Harbor Springs, according to the Humane Society.
Blake Goodman, the Humane Society's state director in Michigan, says the bill is "common-sense legislation that both parties should be able to get behind."
"We don't see it as anti-business legislation," Goodman tells Metro Times. "It will clearly and easily reduce the amount of cruelty in our state in any of our 17 pet stores that sell dogs or cats in Michigan."
Under the pet shop model, numerous puppies of different breeds are available at any given time, which incentivizes the stores to buy from large breeders that can quickly churn out new animals.
How do you make sure over a long, extended period of time that when someone walks into your store, they have a choice of 10 or 20 or more dogs that are eight to 12 weeks old?" Goodman asks. "They constantly need this supply, so dogs are constantly impregnated and having litters. Pet stores constantly need that supply."
From a consumer-protection angle, Michigan doesn't have a lemon law for puppies, so there's no recourse for consumers if their dog gets sick or dies.
"In the end, the consumer is being defrauded and is saddled with a dog that is likely going to be sick and not well-socialized," Goodman says.
Tsernoglou and animal advocates say there are plenty of options for Michigan residents who are looking for a specific breed of dog. There are breed-specific rescue groups and countless shelters that are so overcrowded that unwanted animals are frequently euthanized.
"Since we have so many options, this is a matter of doing what makes sense for our state and communities," Tsernoglou says. "The right thing to do is to encourage a more humane model."
Of the 17 puppy-selling pet stores in Michigan, nine are in metro Detroit. They include Puppygram in Berkley, Teacup & Toys A Pet Boutique LLC in Birmingham, Petland Novi, the Family Puppy in Novi, Woof Woof Puppies and Boutiques in Southfield, the Family Puppy in Troy, Puppy Home Match in Troy, Michigan House of Paws in Waterford, and Westland Dog Food in Westland.
https://www.metrotimes.com/news/michigan-bill-would-ban-pet-stores-from-selling-dogs-cats-and-rabbits-to-cut-off-puppy-mills-34639145
About Post Author