Day care operator and husband's cousin already charged with 1-year-old's fentanyl murder are in even deeper trouble now
TNBD Community
2 months ago
0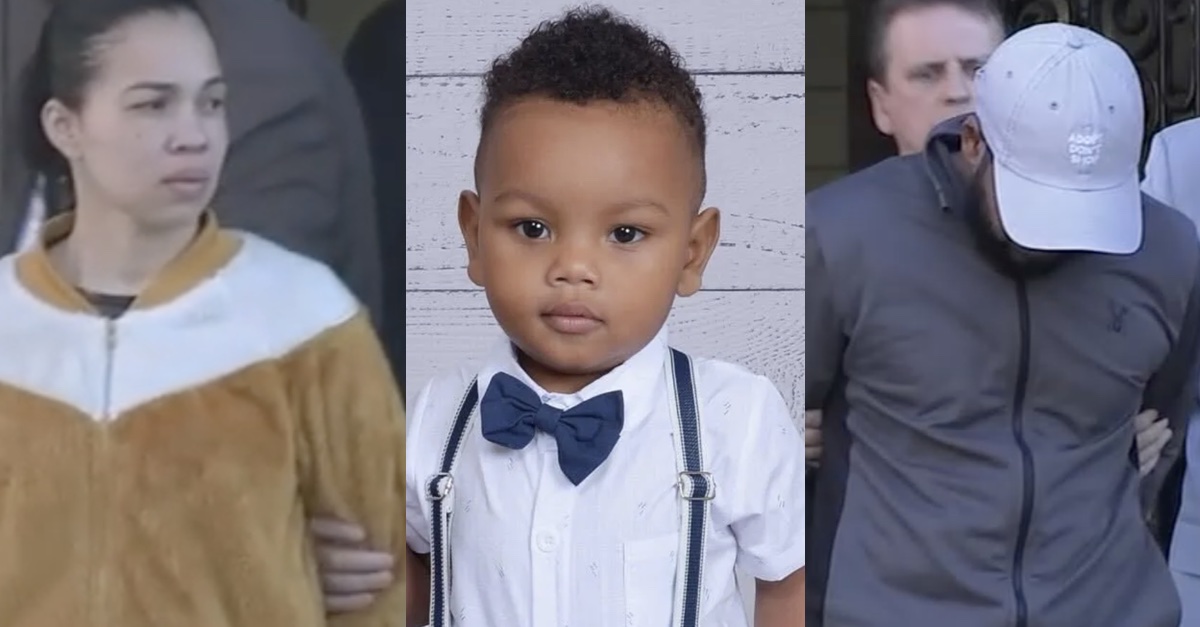 Days after a day care operator and her husband's cousin, a tenant who lived at the location, were arrested by NYPD and accused of murdering 1-year-old Nicholas Feliz Dominici and attempting to murder three more children through fentanyl exposure, the feds have filed additional drug charges against the defendants.
Grei Mendez, 36, and Carlisto Acevedo Brito, 41, were charged by complaint Monday with conspiring to distribute narcotics resulting in death and possession of a controlled substance with intent to distribute, a development that was revealed for the first time Tuesday by prosecutors in the Southern District of New York.
Mendez and Brito were arrested by state authorities the day after the deadly incident, but the Saturday arrests received even more publicity from local officials who said Monday that the case showed just how dire the opioid crisis has become and where it's going.
During a press conference on Monday, New York Chief of Detectives Joseph Kenny detailed that last Friday afternoon, Sept. 15, first responders with the NYPD and FDNY EMS found three young children unresponsive at Divino Nino, a licensed day care center at 2707 Morris Avenue in the Bronx.
"The children, ages one, two and eight months old, were found to be unresponsive at the scene. They seemed to be demonstrating an exposure to an opioid. Quick thinking FDNY EMS personnel administered Narcan to these three children and removed them to Montefiore Hospital. Unfortunately, the 1‑year‑old did not survive and died at the hospital," Kenny said.
Kenny said police found out thereafter that a fourth child, a 2-year-old who was picked up by his mother earlier in the day, also showed the telltale signs of opioid exposure.
"NYPD detectives later learned that an additional child, only two years old, had been removed from the same location at 12:15 that afternoon by his mother. This child also began to exhibit symptoms of opioid exposure," he said. "The child was brought to Bronx Lebanon Hospital where hospital staff quickly administered Narcan saving that child's life."
Mendez and Brito, neither of whom had prior arrests, were charged with murder and attempted murder for their "depraved indifference," which Kenny alleged was made obvious by the kilogram of fentanyl found in a part of the day care center where children nap on mats.
"There, we discovered a kilogram of fentanyl in an area that was used to give the children naps: it was laid underneath a mat where the children had been sleeping earlier. Additionally, we found three kilo presses. This device is commonly used by drug dealers when packaging large quantities of illegal narcotics," Kenny said.
The federal complaint filed the same day included photos of the drug evidence allegedly found at the scene.
"Shortly after the Minor Victims were removed from the Daycare and treated by medical personnel, law enforcement officers searched the Daycare pursuant to a warrant. The Daycare operated out of a one-bedroom apartment consisting of the Bedroom, a playroom, a bathroom, and a kitchen. During the Daycare search, law enforcement officers found both large quantities of fentanyl as well as machinery and paraphernalia used to package narcotics," the complaint said. "In particular, in a hallway closet located near the Daycare bathroom, law enforcement officers found a packaged white, powdery substance weighing approximately one kilogram that field-tested positive for fentanyl. The fentanyl was located inside of a bag that was stacked on top of pieces of a children's playmat. Law enforcement officers also found two 'kilo press' machines and accompanying machine parts, including at least one hydraulic press."
Now the federal government is significantly ratcheting up criminal exposure for Brito, Mendez, and potentially Mendez's husband, identified in the indictment as "CC-1" (i.e., co-conspirator 1). The complaint alleged the Mendez called her husband on the phone before she called 911 and then "deleted approximately 21,526 messages from an encrypted messaging application" she used to communicate with "CC-1" from March 2021 until Sept. 15, 2023.
From at least in or about July 2023 through at least in or about September 2023, GREI MENDEZ and CARLISTO ACEVEDO BRITO and others conspired to distribute fentanyl, including at a children's daycare center in the Bronx (the "Daycare"). There, despite the daily presence of young children, the defendants maintained large quantities of fentanyl, including a kilogram of fentanyl stored on top of children's playmats. In addition, the defendants maintained in the Daycare items purpose-built for the distribution of large quantities of narcotics, including three so-called "kilo presses," which are designed for the recompression of drugs in powder form commonly used by narcotics traffickers at "mills" or other locations where narcotic drugs are broken down, combined with fillers, and portioned for sale. The narcotics and one of the kilo presses recovered are pictured below.

Prior to the arrival of emergency personnel at the Daycare on that date, MENDEZ, in concert with an unnamed co-conspirator ("CC-1") removed evidence from the Daycare. In particular, immediately before MENDEZ called 911 to summon medical assistance for the children, she called CC-1. CC-1 then arrived at the Daycare, stayed for approximately two minutes, and then exited out a back alleyway carrying two full shopping bags — all while the children were unresponsive and awaiting medical assistance. Three of the children were hospitalized with serious injuries. The fourth child, a one-year-old boy, died.
The federal government further alleged that Mendez and Brito made statements after waiving their Miranda rights. Mendez allegedly denied knowing about the drugs and lied that her husband wasn't at the day care on Sept. 15.
The feds said that before EMS got to the scene on Sept. 15, surveillance footage showed Mendez's husband "enter the Daycare empty-handed and then exit approximately two minutes later carrying what appears to be two shopping bags weighted with contents" and exiting the day care "out a back alley."
"Based on my training and experience as a law enforcement officer, I know that the timing of CC-1's entrance and then swift exit out a back alleyway from the Daycare, where the Minor Victims were unresponsive and waiting for emergency assistance to arrive, and while carrying shopping bags, is consistent with the behavior of an individual attempting to remove materials from the Daycare to avoid their discovery by law enforcement," said the complaint signed by DEA Special Agent Kyle Harrell.
Brito allegedly denied knowledge of drugs and said he had only rented a bedroom at the day care property for around two weeks.
Each of the two counts against Brito and Mendez, if resulting in convictions, would mean a mandatory minimum of 20 years behind bars and as long as a life sentence, prosecutors said.
"Parents entrusted Grei Mendez with the care of their children. As alleged, instead of diligently safeguarding the well-being of those children, she and her co-conspirators put them directly in harm's way, running a narcotics operation and storing deadly fentanyl out of the very space in which the children ate, slept, and played," U.S. Attorney for the Southern District of New York Damian Williams said in a statement. "The disregard shown by Mendez and her co-conspirators for the lives of the children under her care is simply staggering."
Mendez is scheduled to appear in Bronx Criminal Court at 9 a.m. on Thursday. Brito as an appearance set for the same time, but on Friday morning instead.
NYPD Commissioner Edward Caban also made remarks on the case Monday, calling Nicholas Dominici's death and the fentanyl poisonings of three more kids tragic, senseless, and a "nightmare."
"What happened three days ago in the daycare center is truly unimaginable. It's a nightmare that these families will never wake up from. But believe me, the NYPD will never rest in our pursuit of anyone who puts our children in harm's way. The dangers of fentanyl cannot be overstated. This poison is extremely deadly, and if you traffic in it you will be prosecuted to the fullest extent of the law," Caban vowed. "No parent should ever have to go through something like this, and we will continue to work 24/7 to make sure there are meaningful consequences for all these horrific crimes."
'Simply staggering': Day care operator and husband's cousin already charged with 1-year-old's fentanyl murder are in even deeper trouble now
About Post Author