New Suit Says Police Abused Woman in 'Torture Warehouse'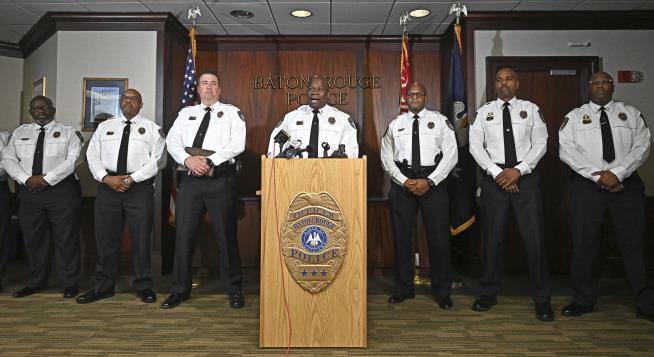 By Bob Cronin,
A second lawsuit has been filed against a Louisiana police department accusing officers of taking detainees to a warehouse they called the "Brave Cave" to be assaulted, beaten, and subjected to body cavity searches. Ternell Brown, 47, filed her suit Monday in federal court, CNN reports. The filing says Baton Rouge officers found bottles of legal prescription medication Brown's car during a traffic stop in June, then took her to a "torture warehouse" where she had to show the officers she had no illegal substances hidden in her vagina or rectum. Police released her after more than two hours, without charging her, the suit says.
Jeremy Lee, 21, of Baton Rouge filed a suit last month saying he was taken to the warehouse in January and beaten while officers turned their body cameras off and on. The officers had pulled his pants down a street, the suit says, for a search that included grabbing Lee's genitals, without telling him why he was being detained. A lawyer for Brown and Lee said the case isn't about "individual rogue officers," per NBC News. "This is about a level of institutional rot, and institutional responsibility for police misconduct that goes to the chief and the deputy chief and has been long-standing for years," Thomas Frampton said Thursday.
The department told CNN it's "committed to addressing these troubling accusations and has initiated administrative and criminal investigations." Police Chief Murphy Paul Jr. said he asked the FBI to help. He said last month that the "Brave Cave" was a narcotics processing facility owned by Baton Rouge Parish and that he hadn't known it was being used for searches. Mayor Sharon Weston Broome said last month she didn't know, either. Brown's lawsuit names specific officers, the police department, and the city. Paul, who's named in both suits, promised that the investigation will be thorough but cautioned that it will take time.
https://www.newser.com/story/340456/new-suit-says-police-abused-woman-in-torture-warehouse.html
About Post Author