Person of interest detained in death of newly engaged sheriff's deputy who was 'ambushed' while sitting in patrol car at red light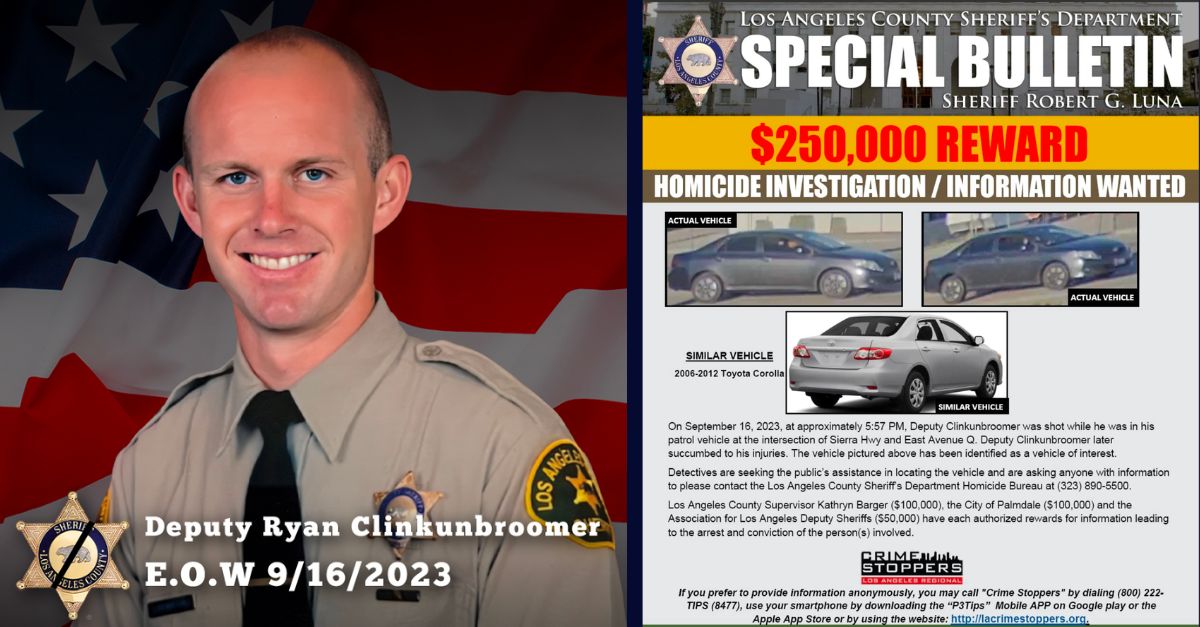 A person of interest has been detained in connection with the ambush killing of a Los Angeles County Sheriff's Office deputy, officials announced.
Deputy Ryan Clinkunbroomer, 30, was shot while sitting in his patrol car in Palmdale, California, on Saturday evening, the Los Angeles County Sheriff's Department said in a press announcement on Sunday.
The LASD denied reports to Law&Crime that an arrest had been made in the case.
"At this point we have a person of interest detained but no arrest has been made," an LASD spokesperson told Law&Crime on Monday. A press conference was planned for 10:30 a.m. local time.
Clinkunbroomer, an eight-year veteran of the LASD, was "ambushed" at around 6:00 p.m. during what the department describes as "routine patrol duties."
"He was in full uniform, driving a marked patrol vehicle, and had just left the Palmdale Station, heading northbound on Sierra Highway," the press release says. "Deputy Clinkunbroomer was alone in his vehicle when he stopped at the intersection of Sierra Highway and Avenue Q in Palmdale. Shortly thereafter, a Good Samaritan discovered him unconscious in his vehicle and promptly alerted Palmdale Station personnel."
Clinkunbroomer was rushed to an area hospital, "where dedicated medical staff made every effort to treat a gunshot wound he had sustained," the press release says. "Tragically, he succumbed to his injuries."
Luna also noted that Clinkunbroomer had gotten engaged just four days earlier.
About Post Author