A Chicago-area phenomenon that's easy to make for Your Memorial Day Weekend Cookout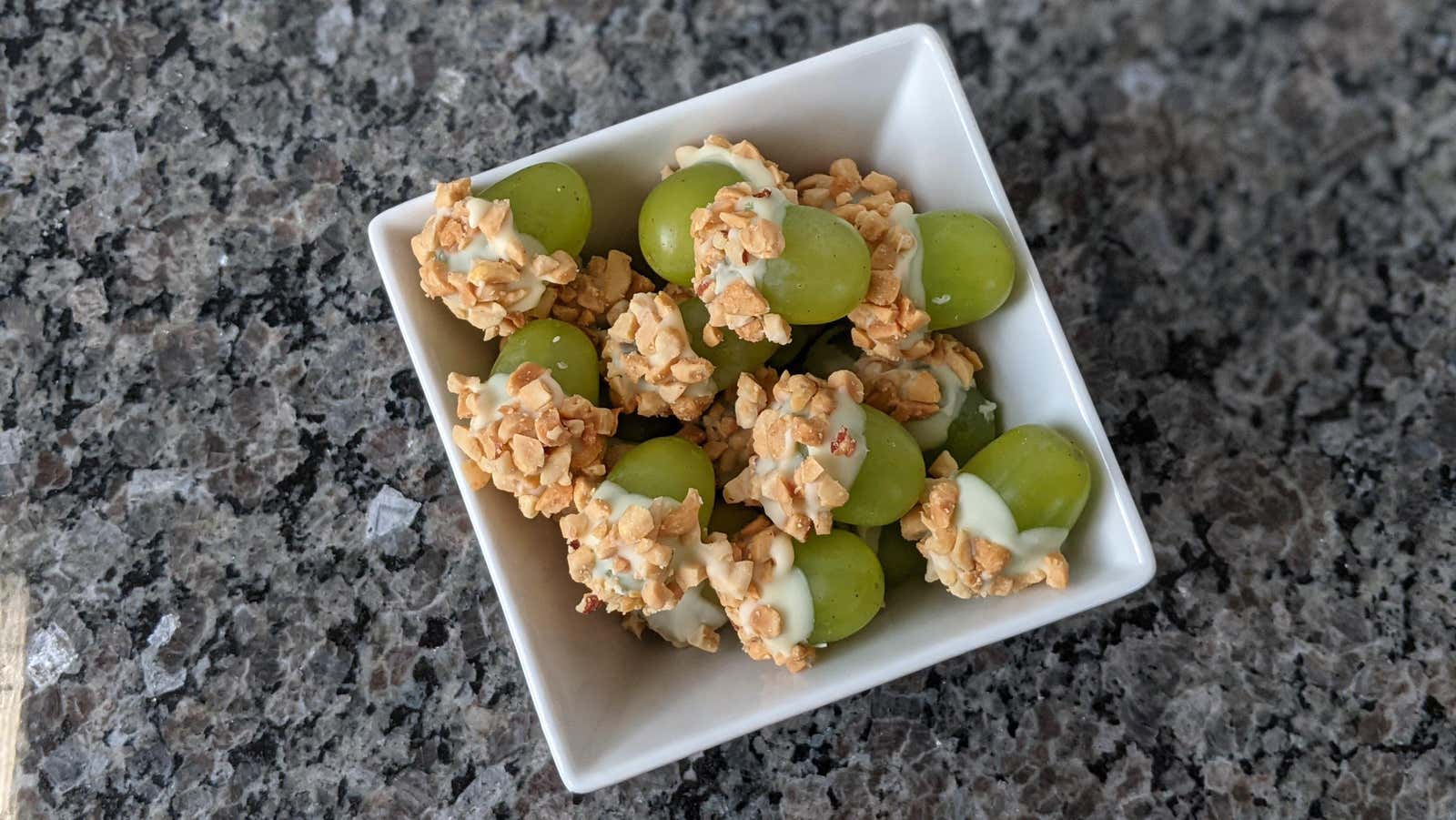 We don't want to think of a summer without Taffy Grapes, a Chicago-area phenomenon that's easy to make in big batches at home and bring along to any backyard barbecue.
Fun to make, easy to assemble, and impossible to resist, this treat is one that belongs on any backyard spread—partygoers can't get enough of them.
Taffy Grapes are Chicago's finest dessert sold by the tub
Makes about 50 grapes
4 oz. white almond bark
1-2 bunches of large green seedless grapes
3 oz. crushed peanuts
Wash the grapes and pat them dry with a paper towel, removing moisture from their surface, then freeze for a few minutes to firm them up. Fill a shallow dish (like a saucer) with a layer of crushed peanuts and set aside.
Melt the almond bark in the microwave or over the stove according to package directions, then give it a stir to make sure it's smooth. Remove grapes from freezer and pat again to make sure they're dry, otherwise the candy coating won't stick. Working quickly, dip the top half of each grape into the almond bark, then roll it in the crushed peanuts to coat. Lay on wax paper to set. Once you've dipped as many grapes as you like and they've all had a chance to set on the wax paper, place them in a wax-paper-lined container and store in the fridge. Let stand at room temperature a few minutes before serving. They should keep for 2-3 days.
https://thetakeout.com/recipe-taffy-grapes-a-chicago-dessert-1846693053
About Post Author