Kentucky man wins $1M lottery while filling up tank: 'I ran out of gas'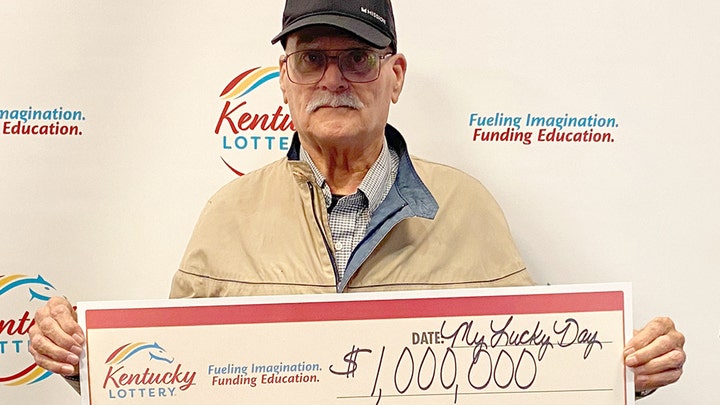 A Kentucky man took home a winning $1 million lottery ticket after stopping at a gas station when his tank was running low on fuel.
Michael Schlemmer, of Corbin, Kentucky, purchased a $20 "$1,000,000 Luck Kentucky Lottery Scratch-off ticket" after stopping by the Convenient Food Mart on US Hwy 25 West, in "critical need of gas," the Kentucky Lottery shared in a recent press release.
"I ran out of gas, and I coasted in there. I had $40 bucks on me and bought $20 worth of gas and bought a ticket," Schlemmer told the Kentucky Lottery.
Schlemmer went back to his car and scratched off the ticket, before going back into the store, where he showed the winning ticket to the females at the register who had sold him the winning prize, the media release shared.
The owners of the store were there, and they both started grinning," Schlemmer said.
Schlemmer reportedly realized he hit it big on the scratch-off ticket after scratching the winning million dollar symbol.
"Until I get the check in my hand, I don't believe it," Schlemmer shared with the Kentucky Lottery.
On May 18, Schlemmer arrived at the Kentucky Lottery headquarters to pick up his check for $616,330, following taxes.
Schlemmer chose to take the game's lump sum cash payment of $862,000, the media release shared.
Schlemmer had been hoping for a new car and will be using a portion of his winnings to go towards a vehicle.
"I told the dealership I'm waiting for a big check to come in and then I hit that," Schelmmer stated
The Convenient Food Mart in which the ticket was purchased, will receive $8,620 for selling the winning ticket, the lottery agency stated.
http://
Michael from Corbin won the top prize on a $20 Scratch-off ticket! He said that his car ran out of gas and he had to "coast" into the gas station where the winning ticket was purchased! Join us in congratulating Michael on this WINNER WEDNESDAY! 🥳 https://t.co/qvBagpDLU5 pic.twitter.com/mBBcSIZQSY

— Kentucky Lottery (@kylottery) May 24, 2023
The winners of the $1 million scratch-off ticket can choose between "receiving $50,000 per year for 20 years or a lump sum cash payment of $862,000 less minimum required taxes," the Kentucky Lottery website says.
The mission of the lottery is to "fuel imagination and fund education for ALL Kentuckians" by funding scholarship and other educational programs with "over $4.4 Billion in funding since 1999," according to the agency.
About Post Author