After Cops Arrested 6, the Arrests Kept Coming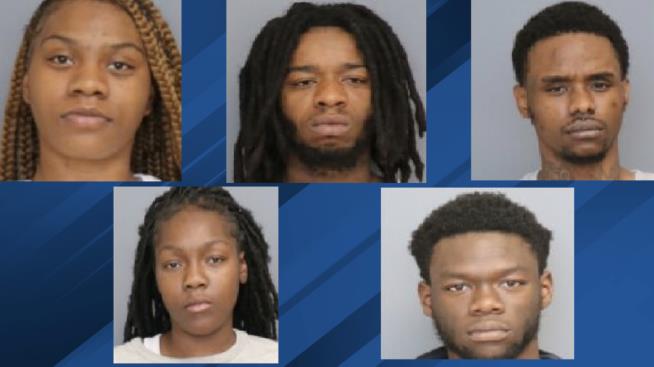 By Jenn Gidman,
An auto theft case in Maryland took a wild turn after the guardian of four detained juveniles who came to the police station to pick them up was arrested as well. KOMO reports that on May 16, cops ran a check on two occupied Hyundais parked in a business lot in Waldorf, and realized those cars were stolen. When police tried to initiate contact, they say the vehicles bolted and landed at a nearby park and ride. Authorities say the suspects exited the cars and tried to hide but were found and detained. Two adults—18-year-old Deshaun Deamonte Whitaker and 21-year-old Vincent Lee Alston—and four juveniles were hauled down to the police station.
Whitaker and Alston were charged with theft and unauthorized use of a vehicle, among other charges. Whitaker was released on a $2,000 bond, while Alston remains detained without bond. The juveniles were hit with similar charges, but when a guardian and two other females came to the station to pick them up that things got weirder. After that trio left the station with the juveniles on foot, cops discovered that the car that had dropped them off was also stolen.
Carlisa Monnae Blakeney and Mahkiyh McQuinn-Woodly, both 18, and a juvenile female were later arrested and charged with theft, providing a false name, and unauthorized use of a vehicle, among other charges. It's not clear which woman was the juveniles' guardian. Blakeney and Woodly have also since been released. All four adults are due back in court July 7, per Southern Maryland News. As for the third stolen car, also a Hyundai, that drove away from the police station, KOMO notes it was recovered after nearly hitting a police officer.
Cops say inside that vehicle was 19-year-old Anthony Matthew Stewart, who was arrested after trying to flee on foot, per KOA. Stewart was charged with first-degree assault, second-degree assault, theft, unauthorized use of a vehicle, and providing a false name. He remains detained—either on no bond, per Southern Maryland News, or $25,000 bond, per a release—and is set to next appear in court June 16. Also inside that car were three juveniles who are now facing their own charges, including theft and unauthorized use of a motor vehicle. Among those younger arrestees: a 16-year-old with active arrest warrants in his name, and a 13-year-old girl who'd been reported missing in another county. (Hyundais are apparently easy to steal these days.)
https://www.newser.com/story/335690/after-cops-arrested-6-the-arrests-kept-coming.html
About Post Author