Army Wife Who 'Raised Hell' Gets a Base in Her Name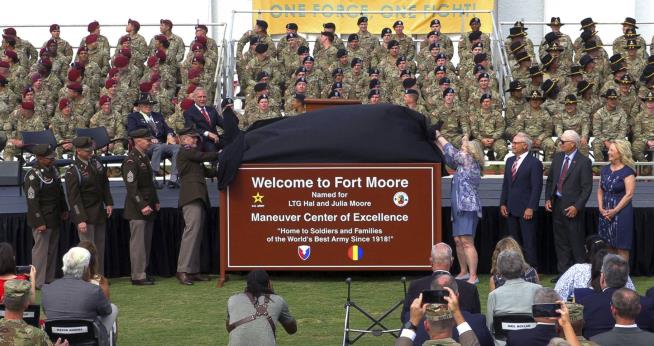 By Polly Davis Doig,
The Army's Fort Benning in Georgia is now Fort Moore—another in the list of military institutions taking down Confederate names and replacing them with more modern ones. However, as CBS News reports, the "Moore" in the name is actually representative of two Moores—Lt. Gen. Hal Moore and his wife, Julie. Both are deceased, but Hal Moore led US troops into the first battle with North Vietnamese soldiers in a fight that he later described as "screams of the men hollering 'mom' or 'medic.'" "I can't describe to you really that hell we were in," he said.
Says Bob Edwards, a commander there that day, "C Company had started the day with five officers and 106 men, and by 10, there were no unwounded officers. There were 42 men killed." But despite the devastating losses, "the line had held." Julie Moore was not there that day, nor did she serve in the military. But as a Vietnam-era Army wife, "she raised hell with the Army," said her husband later, over the practice of notifying families that their loved ones had been lost via telegram. "She raised a fuss all the way up to stop that inhumane practice." Families of slain servicemembers are to this day notified in person because of her efforts. She becomes the first military spouse with her name on a base.
The Moores' sons were at the base for a renaming ceremony, and as WRBL reports, they had proposed that their mom be front and center. "There are many great military leaders," says son David Moore. "But what makes Hal who Hal was, was Julia. And Julia is the center of gravity, the core of the offering that we proposed. And without that, there would be no proposal."
https://www.newser.com/story/335588/army-base-renamed-for-vietnam-vet-and-his-wife.html
About Post Author