Putin Should Help Irish Terrorists Attack Buckingham Palace, TV Pundit Declares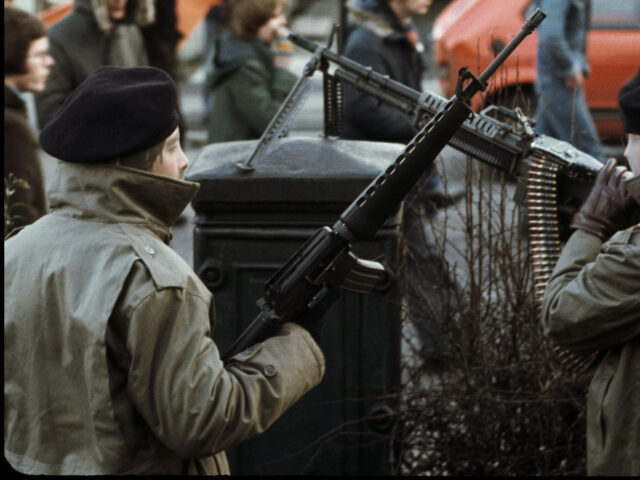 PETER CADDLE
Vladimir Putin should help Irish terrorist organisations attack Buckingham Palace, a Russian TV pundit reportedly declared.
Vladimir Rogov, a talking head on Russian television, suggested that Vladimir Putin should begin arming Irish terrorists in the hopes they would attack Buckingham Palace.
The outlandish suggestion is largely par for the course in terms of the Russian-language war rhetoric produced domestically in the country, with pundits and politicians regularly recommending that Putin solves all of the country's problems with precision nuclear strikes.
According to a report by the Belfast Telegraph, Rogov reportedly said that the Russian government should, in response to the UK sending missiles to Ukraine, begin "accidentally" arming the "Irish Republican Army".
"Can't we somehow (ensure) the remaining combat wing of the Irish Republican Army, which is fighting against British occupation, has normal weapons (to) hit Buckingham Palace, 10 Downing Street, and elsewhere?" he asked his fellow commentators on the 'Evening with Vladimir Solovyov' television show.
Russia Threatens to Nuke… Everyone over International Criminal Court Arrest Warrant for Putin https://t.co/f5PestMcc7

— Breitbart London (@BreitbartLondon) March 24, 2023
He went on to suggest that such a move would be ethical as it would help provide "self-determination for the Irish", as well as — somehow — "free" Scotland.
However, while seemingly not raised by his fellow pundits, there are quite a few problems with Rogov's suggestion.
No doubt the largest issue is that although a number of terror groups that style themselves as the "Irish Republican Army" do still exist, the two major groups who historically used the name are now defunct.
In fact, politicians who have inherited the legacy of both paramilitary organisations even attended the coronation of King Charles III earlier this month, suggesting they will likely not be in the mood to bomb the UK anytime soon.
Rogov is not alone in giving Putin wild policy suggestions that are not based in reality, with a wide variety of pundits in the country repeatedly saying that the Russian leader should just bomb everyone who disagrees with him.
This tradition continued on the very programme Rogov was hosted on, with the show's host suggesting that the country should respond to the recent actions of UK Prime Minister Rishi Sunak by hitting him with a hypersonic missile.
It is unclear what the logistics of striking the 5ft 6in world leader would entail, and whether Russia's notoriously inaccurate targeting infrastructure would be up for the task.
https://www.breitbart.com/europe/2023/05/21/putin-should-help-irish-terrorists-attack-buckingham-palace-tv-pundit-declares/
About Post Author