As Japan Drops Masks, Smile Coaching Booms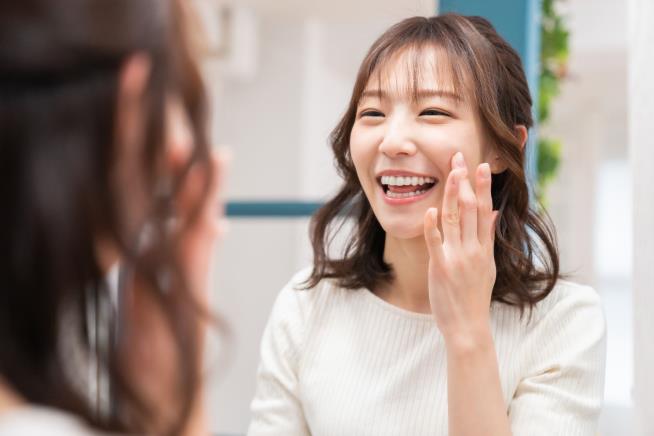 By Arden Dier,
After three years hidden behind face masks, some Japanese people have developed a "complex" about their smiles and are willing to pay big money to fix it. "Smile coaches" are offering "smile education" to help people relearn to smile without looking awkward. And no, "I'm not making this up," as a Firstpost anchor felt compelled to state. As the Guardian reports, some Japanese people claim to have forgotten how to smile during the pandemic. "With mask wearing having become the norm, people have had fewer opportunities to smile, and more and more people have developed a complex about it," smile coach Keiko Kawano tells Asahi Shimbun.
So what exactly is smile education? According to Kawano, it involves coaching a person to move and relax the facial muscles in front of a mirror until they are satisfied with what feels like a natural smile. "Even if you're thinking about smiling or that you're happy, if you have no expression, it won't reach your audience," she told students during a recent session in Yokohama, per the Japan Times. Kawano says she also encourages people "to spend time consciously smiling for their physical and mental wellbeing." "Smiling not only makes a good impression on others and facilitates communication but also has the effect of making yourself feel more positive," she tells Asahi Shimbun.
Kawano has coached more than 4,000 people in the last six years, per the Times, but says applicants to her program rose 4.5 times in the weeks before Japan's three-year mask mandate ended in March. "Smiles are essential for maskless communication," one participant tells Asahi Shimbun. "I want to apply what I learned today at volunteer activities and other gatherings." Kawano is just one of hundreds of smile coaches across Japan, who charge up to $650 for their services, per Firstpost. The touted benefits of smile education include relieved stress, a strengthened immune system, reduced blood pressure, and improved social contact.
https://www.newser.com/story/335366/as-japan-drops-masks-smile-coaching-booms.html
About Post Author