Homeless Vets Story Eaten Up By Fox News Turns Out to Be Spectacularly False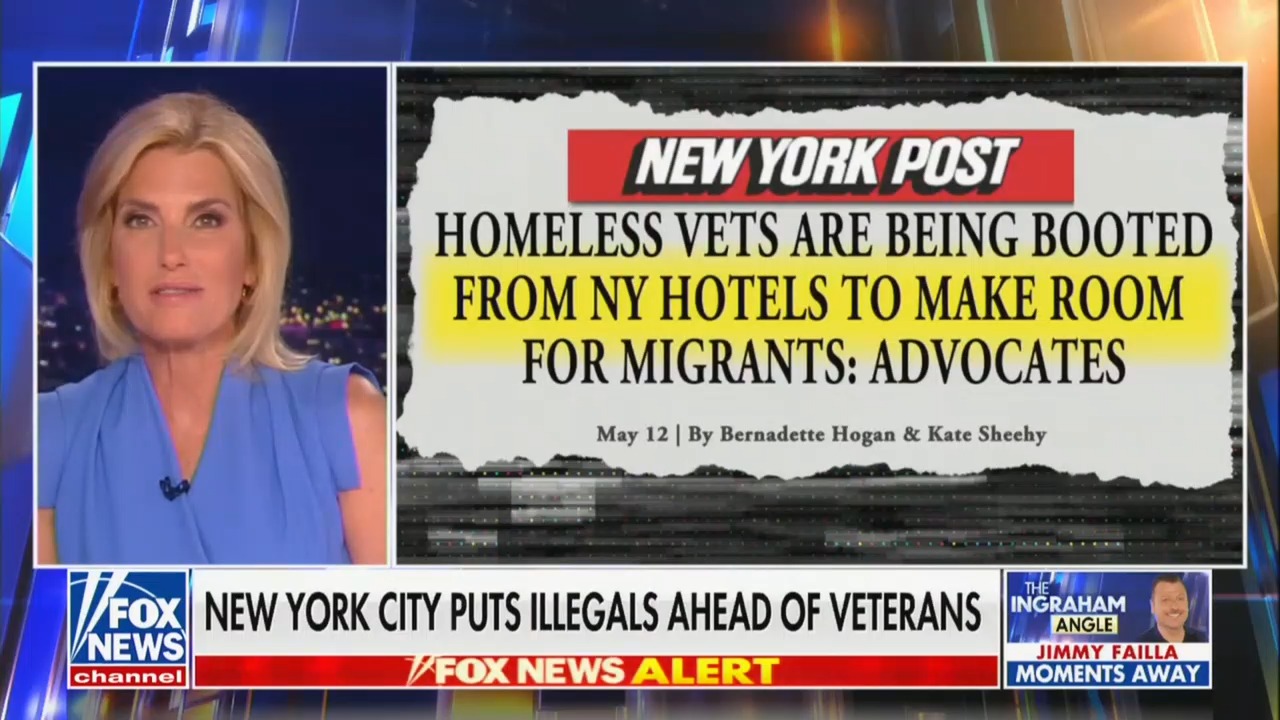 Posted For: RoomClearer
The New York Post dropped a bombshell report last week: amid a nationwide influx of migrants, nearly two-dozen homeless veterans were kicked out of hotels where they were being temporarily housed in order to make room for migrants in upstate New York.
The story, which was based on a claim by a veterans advocate, got the front page treatment: "VETS KICKED OUT FOR MIGRANTS," bellowed the Post last Saturday. "Outrage as upstate hotels tell 20 homeless veterans to leave."
It made the front page of the Post — but now the vets advocate the reporting was based on has apparently admitted she lied after hotels said they had no idea what she was talking about.

Here's the Post's update: https://t.co/Wj9ivPGokj pic.twitter.com/68NsyAK1th

— Aidan McLaughlin (@aidnmclaughlin) May 19, 2023
It was a juicy story that could have been cooked up in Roger Ailes's rage-fear lab: Red-blooded American veterans put out on the street to make way for foreign invaders!
The story rocketed around the right-wing ecosystem. New York Post columnist Miranda Devine said President Joe Biden "should burn in hell for this." House Speaker Kevin McCarthy called it "shameful." Donald Trump Jr. declared, "Fuck Democrats." Nikki Haley said the tale was "Liberal insanity at work."
Naturally, Fox News covered the story enthusiastically, treating it as gospel on nearly every program. On Outnumbered, one of Fox's most popular daytime programs, hosts pinned blame for the very local story on Biden.
It proves he "doesn't mean it" when he says "God bless the troops" at the end of his speeches, one host said. "Why is Joe Biden doing this?" another asked. "Because it is intentional… he is a globalist. He's more concerned about the needs of the U.N., about the World Economic Forum than he is about his own American citizens."
Then, the story fell apart.
First, the hotels that veterans were supposedly booted from told Mid-Hudson News they had no idea what the advocate, YIT Foundation Executive Director Sharon Finch, was talking about. Then, a local Republican New York lawmaker dug into her claims and concluded that she lied.
According to the Times Union:
Over the past week, a sensational story has torn through local and national media: A local nonprofit said homeless veterans under its care had been kicked out of upstate hotels to make room for migrants bused from New York City. But the story has fallen apart over the past 48 hours, culminating Thursday evening with state Assemblyman Brian Maher, R-Walden, who had been advocating for the veterans in national media and in the state Legislature, denouncing it as false in a call with the Times Union.

Maher said he was "devastated and disheartened" after a conversation with the CEO of the nonprofit earlier in the day revealed that the story wasn't true. He is calling for the organization to be investigated by the state attorney general's office and the Orange County district attorney.
Maher, who said he has worked with Finch on veterans' issues for three years, became emotional in an interview with the Times Union as he recounted pressing Finch on her story — which prompted her to admit she had made it up.
But wait, it gets worse. The Mid-Hudson News — kudos to this local paper for some tremendous coverage on this story, by the way — reported on Friday morning that seven homeless men had come forward to reveal that Finch approached them at a shelter this week, offering to pay them in cash, food, and alcohol to pretend that they were veterans who had been kicked out of the hotels to make way for migrants.
The New York Post followed up with a report on their story falling apart. An editor's note has been affixed to the original front-page story. It reads: "This non-profit CEO has since been accused of misrepresenting the veterans who have been displaced for migrants."
Fox News has yet to issue any correction over the story. The network did not respond to a request for comment.
Update: Fox News delivered an update on the story in the 2 p.m. hour. Correspondent Nate Foy reported:
A quick update on a story from earlier this week about homeless veterans being displaced from a hotel in Newburgh, New York to make room for migrants. We are now looking into new reports that a veterans advocate misled lawmakers and media outlets about the story and that some homeless men may have been hired to pose as veterans. We have reached out to the organization for a statement but so far have not heard back.
The network did not say whether a correction would be aired on the shows that covered the story, which include Outnumbered and The Ingraham Angle.
Homeless Vets Story Eaten Up By Fox News Turns Out to Be Spectacularly False
About Post Author