Florida sending 800 National Guard troops to Texas-Mexico border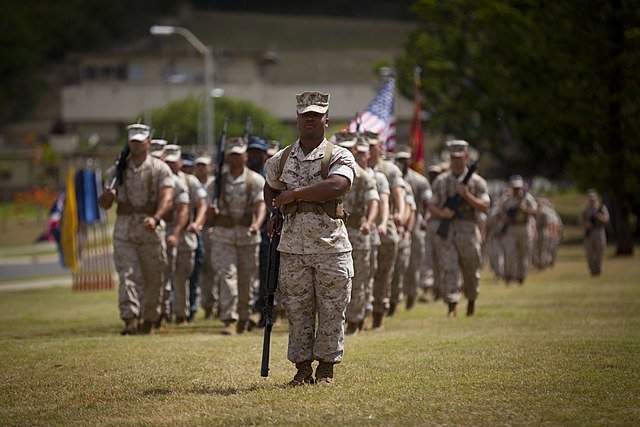 May 16—AUSTIN, Texas — Florida Gov. Ron DeSantis is sending 800 of the state's National Guard troops to work for one month along the Texas border with Mexico as Texas Gov. Greg Abbott called on non-border states to do more to help with an expected increase in migration in the coming weeks.
Abbott thanked DeSantis, both Republicans, in a letter that called on other governors to provide help at the border following last week's end of a pandemic-era public health policy, known as Title 42, that allowed federal border agents to quickly expel migrants over concern they would spread the coronavirus. That policy ended Thursday as the country continues to move away from the emergency pandemic measures put into place in 2020.
Department of Homeland Security officials feared the lifting of Title 42 would lead to an increase in legal and illegal border crossings. However, Homeland Secretary Alejandro Mayorkas said Sunday on CNN's "State of the Union" program that migration dropped about 50% in the two days immediately following the policy change.
In addition to returning to laws that allow for criminal punishments for those who cross into the U.S. between legal ports-of-entry, Biden has also introduced paths to seek asylum that encourage migrants to follow the law.
In Abbott's letter to governors, he wrote he is still preparing for the increase that even the federal government has predicted could reach 150,000 and will include an increase in the smuggling of drugs and people across the border.
"The flood of illegal border activity invited by the Biden administration flows directly across the southern border into Texas communities, but this crisis does not stop in our state," Abbott wrote. "Emboldened Mexican drug cartels and other transnational criminal enterprises profit off this chaos, smuggling people and dangerous drugs like fentanyl into communities nationwide."
Idaho Gov. Brad Little has also announced he will send resources to Texas. The Republican pledged last week to send a team of law enforcement officials who will spend one month stopping drugs from crossing the border, according to a news release.
"I thank these states for proactively addressing this crisis and request other states follow their lead in helping to secure America's border," Abbott wrote.
Florida's Guard troops will join roughly 5,500 Texas National Guard members already deployed to the border as part of a two-year-old state mission dubbed Operation Lone Star, according to information the Guard provided lawmakers earlier this year.
Florida's Guard will begin to deploy Wednesday morning from Florida to El Paso, Del Rio and the Rio Grande Valley in south Texas, according to the Florida Division of Emergency Management. The support is through the Emergency Management Assistance Compact, which allows states to provide resources to each other during emergencies.
Texas requested assisting states absorb costs associated with the mission in support of the entire country, according to the compact request. The Florida troops will be armed and support observation points. They will deploy in two rotations of about 16 days each, totaling 31 days of support.
The Texas Military Department said in a statement that the Florida troops will "prevent, deter and interdict transnational criminal behavior between points of entry."
In addition, DeSantis authorized about 300 law enforcement officers to travel to Texas and will provide five fixed-wing aircraft, 17 drones, 10 water vessels and two mobile command vehicles, according to a news release.
"The impacts of Biden's border crisis are felt by communities across the nation, and the federal government's abdication of duty undermines the sovereignty of our country and the rule of law," DeSantis said in a statement.
The Defense Department also has deployed about 2,500 National Guard troops working along the entire southwest border with Mexico as part of an ongoing federal mission to support U.S. Customs and Border Protection. The department is deploying an additional 1,500 active-duty troops to spend 60 days at the border to help with the expected increase following Title 42.
https://americanannouncement.com/2023/05/florida-sending-800-national-guard-troops-to-texas-mexico-border/
About Post Author