Chicago Mayor Brandon Johnson's allies push for $12 billion financial package to raise taxes, defund police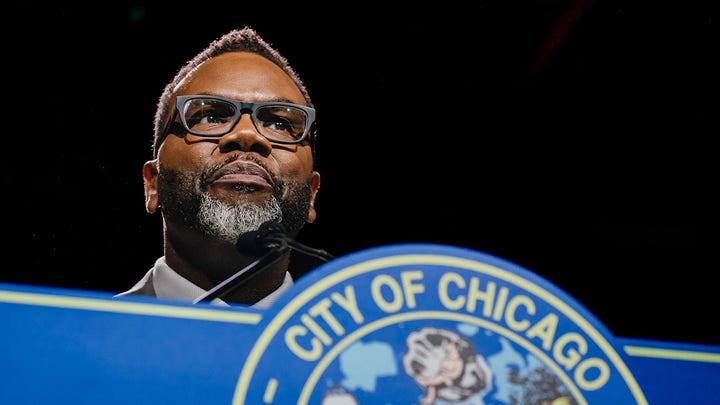 By Kyle Morris |
Allies of newly-elected Chicago Mayor Brandon Johnson are pushing a $12 billion financial package that would raise taxes for certain residents in the city and divest from policing and surveillance.
Released Tuesday, the proposal from Action Center on Race & the Economy (ACRE) and People's Unity Platform outlined "several measures Mayor Brandon Johnson can take to raise or save up to $12 billion a year to fund true community safety."
From housing and education to climate and violence prevention, the People's Unity Platform called for Johnson's office to take action on a number of its suggestions in the proposal titled "First We Get The Money."
"Chicago must pass the Bring Chicago Home ordinance, which would eliminate homelessness in Chicago by providing permanent, affordable housing and homeless services by instituting a real estate transfer tax on transactions worth over a million dollars," the group said in its proposal. "Chicago must fully fund loving and liberatory schools, with appropriate class sizes and staff ratios, a nurse and counselor in every school, transformative curricula, restorative justice practices, and a true commitment to sanctuary schools."
The group — self-described as a citywide multiracial coalition of neighborhood community organizations and labor unions in Chicago — also urged Johnson to "invest in improving public health in the 24 industrial corridors across the city that are located in Black and Brown communities."
"Restoring environmental health to these sacrifice zones through land use and zoning laws would help bring true safety to communities by repairing the harm caused by decades of environmental racism," it stated.
Additionally, the group called for Johnson to "prevent violence and bring true safety" to Chicago communities by prohibiting the "criminalizing" of Black youth in the city.
"The People's Unity Platform represents the combined wisdom of leaders from Black and Brown communities across Chicago for the investments needed to make their communities truly safe. Paying for these proposals requires millions of dollars. Chicago has the money. What it needs is bold and courageous leadership from the Mayor's office," the proposal stated.
According to the group, "new revenue from making the wealthy and corporations pay what they owe" would generate $6.8 billion for the city each year while "savings from values-aligned spending priorities" would generate $5.1 billion a year.
The group said Johnson should "reinstitute the big business head tax to make large corporations pay what they owe for benefiting from the city's public infrastructure" and also raise the jet fuel tax to "force airlines to pay what they owe for using our public infrastructure and profiting from creating pollution in our city."
The proposal further urged Johnson to "work to pass and sign the Bring Chicago Home Ordinance, which would increase the real estate transaction tax on transactions worth more than $1 million by 1.9 percentage points" and "freeze new tax-increment finance (TIF) subsidies and return all TIF funds to Chicago's taxing bodies."
Chock-full of suggestions, the proposal also called for the mayor's office to "divest from policing and surveillance."
"Reduce the bloated police budget: 31% of Chicago's 2023 budget is allocated to the Chicago Police Department," the proposal stated. "Mayor Johnson can redirect some of this money from the bloated police budget to the proposals in the People's Unity Platform that will bring about true public safety."
"As a first step, the mayor should commit to cutting from the police department budget before cutting other services. Next, the mayor can eliminate the 1,000 vacant police positions, some of which have been vacant for years but remain in the budget," the group added. "This would represent an estimated 9% cut in the city's police budget, saving the city more than $149 million. Going forth, if the mayor continues to slash the policing budget by 9% per year in each of their next four years in office, this would free up $538 million per year by 2027 that the city could put towards community services instead."
The group also called for Johnson to "cancel ShotSpotter." A ShotSpotter camera has the potential to capture entire crimes on video with crystal-clear quality. When gunfire is detected, police stationed inside the ShotSpotter command center at police headquarters are able to instantly monitor the unfolding situation from surveillance monitors and send officers to the scene.
In 2018, amid the rise in use of the crime-fighting technology, police said ShotSpotter dramatically reduces response time from as much as eight minutes to just 30 seconds by essentially eliminating time-consuming 911 calls.
"Some studies suggest that ShotSpotter has a false alarm rate of more than 90%, and that its usage leads to over-policing, therefore increasing incidents of police violence in the very communities the city claims to be making safer," the proposal read. "Mayor Johnson must cancel the city's ShotSpotter contract with SoundThinking and refrain from arranging other surveillance contracts with tech corporations."
In April, ACRE celebrated Johnson's victory as a "testament to the power of the people of Chicago" and claimed that he "supports unions, higher taxes on corporations, and a vision of public safety that is not solely dependent on law enforcement."
https://www.foxnews.com/politics/chicago-mayor-brandon-johnsons-allies-push-12-billion-financial-package-raise-taxes-defund-police
About Post Author