Teen umpire rescues 7-year-old catcher from freak dust devil at home plate: 'You saved his life!'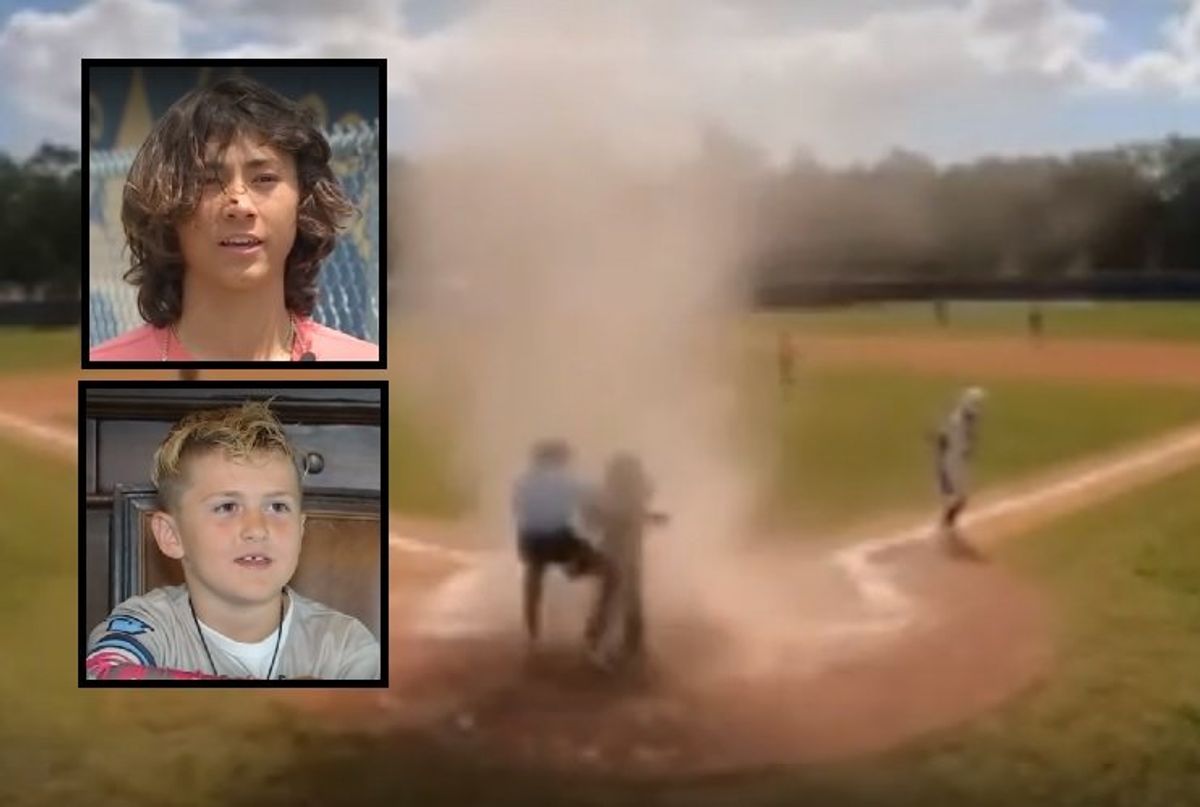 A teenage umpire in Florida has been hailed as a hero after he saved a 7-year-old boy from a surprise dust devil during a baseball game over the weekend.
Sunday afternoon seemed like a nice day for baseball in Jacksonville, Florida. At the Fort Caroline Athletic Association park, it was sunny and hot as several 8-and-under teams battled their way through a Mother's Day tournament. Among those games was a tough matchup between the FCAA Indians and the Ponte Vedra Sharks.
At the top of the fourth inning, the Indians were looking to add to their one-run lead. With one out and nobody on, an Indians player stepped up to the plate to see whether he could start a rally for his team. He didn't have much of a chance. Just as he was facing the second pitch, his at-bat was interrupted by a strong dust devil, which suddenly appeared just over home plate.
The batter swung and was able to step out of the way. However, the catcher behind home plate was caught up in the throes of the freak of nature. The catcher, 7-year-old Bauer Zoya, later described the frightening moment when the wind and dust nearly lifted him off the ground.
I couldn't breathe that much," Bauer said. "So I held my breath, and I feel like I couldn't touch the ground. So I kind of lifted up a little bit."
According to WSB-TV, the winds inside the dust devil could have reached up to 30 or even 40 mph, creating a dangerous situation for a small boy. "I was scared," Bauer admitted, "and I got afraid [wondering] if someone would pull me out."
He needn't have worried. Standing just behind him was 17-year-old Aidan Wiles, a junior in high school who earns a few dollars umpiring youth baseball games in his free time. Though Wiles initially ducked away from the dust devil, he quickly returned once he saw young Bauer in distress.
"I just saw him freaked out, just like couldn't find his way out," Wiles explained. "And I knew his little body couldn't handle it, so I just rushed in and got him."
Wiles bear-hugged Bauer and whirled him around, pulling him out of the dust devil and away from imminent danger. "I was worried about his safety because when I got taught, the players' safety is always the first thing," Wiles stated.
It's the viral video that has two local athletes in the national spotlight🌪
Today I got to catch up with both of them about what was going through their minds while inside the Dust Devil on the Diamond & how a scary few seconds started a long-lasting friendship.@ActionSportsJax pic.twitter.com/N5WqM4OzmF

— Alivia Tassely (@AliviaASJax) May 16, 2023
Many watching the game applauded Wiles for stepping in to save Bauer. One spectator even shouted, "You saved his life!" Bauer's father, Brian Zoya, also praised Wiles as well. "A kid that just had the presence in mind to just do that, it's just special to see," Zoya said. "… He had great parents raising him."
Bauer handled the incident like a champ as well. After his dad came out to the field, poured water on Bauer's face to rinse the dirt, and gave him a short pep talk, Bauer went back into the game. The final score of the game is unclear, and the Sharks ultimately did not prevail in the tournament. But Bauer, his teammates, and Wiles still walked away winners.
Since it ended, Brian Zoya has reached out to Wiles' parents in the hopes of arranging a reunion for the umpire and catcher. "Next time I see him, I just want to say thank you," Bauer said.
https://www.theblaze.com/news/teen-umpire-rescues-7-year-old-catcher-from-freak-dust-devil-at-home-plate-you-saved-his-life
About Post Author