Sparks' Dearica Hamby moving forward after Aces coach Becky Hammon is suspended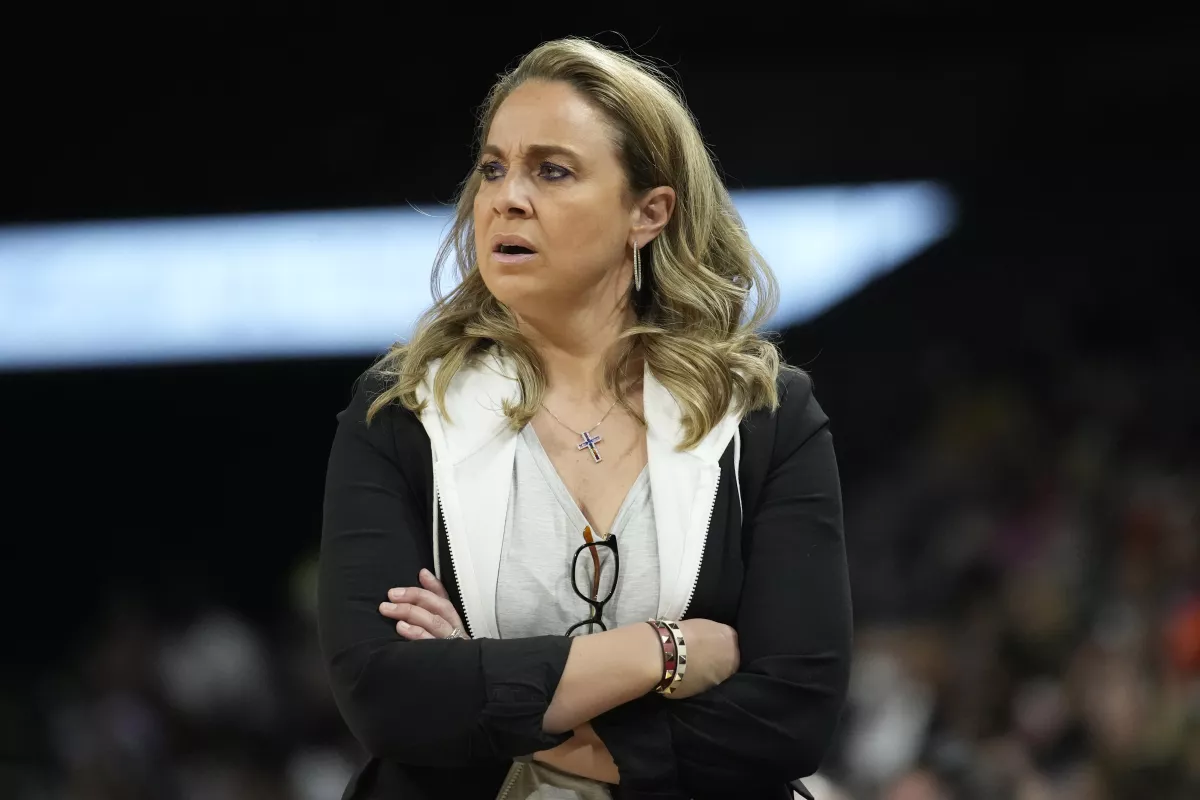 She was on her feet and walking 10 minutes after giving birth to her second child. So, Dearica Hamby has no problem moving on quickly after this latest hurdle in life.
The WNBA suspended Aces coach Becky Hammon on Tuesday for two games without pay for comments she allegedly made to Hamby about her pregnancy that violated league and team respect in the workplace policies. A months-long investigation stemming from Hamby's allegations of bullying and discrimination also resulted in the Aces losing their 2025 first-round draft pick because of impermissible player benefits connected to a contract extension Hamby signed in 2022.
Hamby knew about the punishments Monday, one day after she made her on-court debut as a mother of two in the Sparks' preseason scrimmage on Mother's Day. With the Sparks' season opener set for Friday, the two-time All-Star was relieved to close this chapter.
"I kind of want to move forward and focus on where I am today," Hamby said Tuesday after Sparks practice. "I'm healthy, I'm happy, my son is healthy and I'm going to be playing basketball this season. So just want to focus on moving forward. This part of it is over and me and the union will continue to explore my options."
Hamby, a two-time league sixth player of the year, was traded to the Sparks in January. In a statement on social media at the time, Hamby wrote that members of the Aces failed to follow through on promises used to entice her to sign a two-year contract extension, questioned her commitment to the team after getting pregnant and told her she "was not taking [her offseason] workouts seriously," despite working with team and personal trainers during her pregnancy, which she announced during the Aces' championship parade last September.
Amaya, Hamby's 7-year-old daughter, asked whether the trade was because of her son Legend. Hamby broke down in tears.
"For my son, he'll be able to see it," Hamby said while wiping away tears of the example she wants to set for her son. "I don't think this is the end of it and just moving forward, being progressive for working moms, and I think the league has been incredible [with] what they've done, but we still have a long ways to go in this league and in the world."
Hamby said she was physically cleared to return at four weeks postpartum. She called Sparks general manager Karen Bryant a few days before training camp and said she intended to join the team at the start of the season. While her first day of practice was supposed to be noncontact, she felt ready to upgrade to contact almost immediately.
"The women body is incredible, in general," Hamby said.
"Hers is different though," Sparks forward Chiney Ogwumike interjected.
Hamby's new teammates have been a source of support after the trade and during her return to the court. While Hamby admitted she was hard on herself after Sunday's scrimmage in which she scored three points on one-for-nine shooting with a team-high six rebounds in 20 minutes, her teammates remained in awe of her quick return.
"It's important for players' voices and thoughts and feelings and emotions and life experiences to be heard so to be able to see that she was heard in a platform, that makes me feel good," Ogwumike said of the results of the investigation. "But also, we're just here to support her. … She's a bad-ass woman. As a mom, as someone that has been such a force on the court as well, to be able to support her through this, l think that is a gift that as friends, it feels like I'm glad that we've all been collectively here for us. I'm lucky, we're lucky to have her as a teammate and we will protect her at all costs."
Last year, Hamby earned All-Star honors while averaging 9.3 points, her lowest output since 2018, and 7.1 rebounds. Although it was always her plan to return for the start of the season, Hamby said she doubted herself after the trade. She admitted that the grievance was initially part of her motivation to return so quickly but her focus has now shifted.
"I've been having to dial myself in to not make it personal to try to prove the Aces wrong," Hamby said. "Right now, I'm proving to myself and my kids I can do it. … I'm back."
After Friday's season opener against the Phoenix Mercury at Crypto.com Arena, the Sparks play Hamby's former team on May 25 at home and then May 27 in Las Vegas. The reunion probably will be emotional, Hamby said.
"But," she added, "I'm locked in on Sparks basketball."
Roster moves
The Sparks waived second-year forward Rae Burrell and guard Karlie Samuelson on Tuesday after cutting rookie forward Monika Czinano on Monday. The team has 11 active players on the roster before final rosters are due Thursday.
https://www.latimes.com/sports/sparks/story/2023-05-16/wnba-suspends-aces-coach-becky-hammon-bullying-allegations-dearica-hamby
About Post Author