It's nice 'to have a little more time with her..Obama on Marriage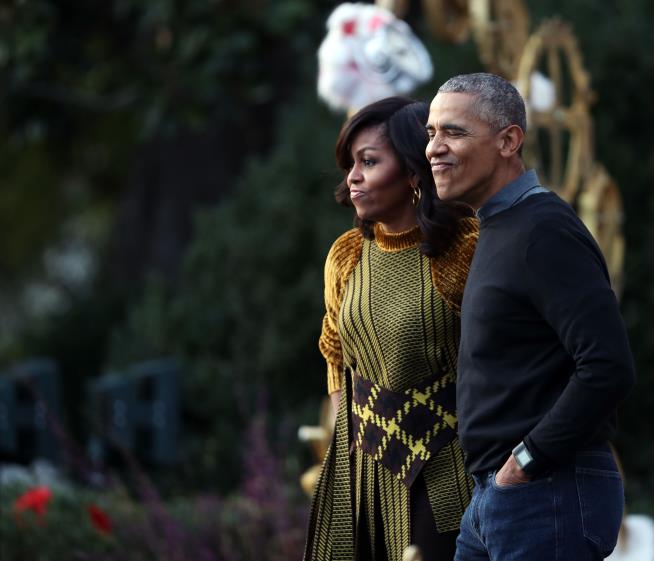 By Steve Huff,
Asked about a remark Michelle Obama made in which she said she "couldn't stand" her husband for 10 years of their 30-year union, Barack Obama acknowledged that "it sure helps to be out of the White House and to have a little more time with her," reports the Hill. Obama was speaking Tuesday to CBS Mornings co-host Nate Burleson when the anchor asked him about his wife's earlier interview on the same show in which she said, "We've been married for 30 years. If I fell out with him for 10 [years], and we had a great 20 years, I'd take those odds anytime."
The former president added that it was also challenging raising two girls in the white-hot spotlight of Washington, and the brunt of that fell on his wife. "I did not fully appreciate—I think as engaged of a father as I was—the degree of stress and tension for her," he told Burleson, "knowing not just that me and Michelle were under scrutiny and in this strange environment, but that we were raising our daughters in a kind of situation that just wasn't normal." Malia is now 24 and Sasha 21, and both are doing well, the former president said on the show.
Michelle Obama has been open about relationship challenges in the past, telling Oprah Winfrey in a 2018 interview for Elle that marriage counseling "was about me exploring my sense of happiness. What clicked in me was that I need support and I need some from [her spouse]. But I needed to figure out how to build my life in a way that works for me." Her views have influenced how she feels about her daughters' relationships as well. As she said in a 2022 interview on The Tamron Hall Show, Michelle Obama wants them to "spend some time with themselves to develop some skills to understand that they can make it with or without, that they can build their happiness with all the bells and whistles and they can be happy if they choose to only focus on their career, to never have kids. I want to make their worlds bigger for them."
https://www.newser.com/story/335335/obama-on-marriage-not-being-president-helps.html
About Post Author