Missouri Animal Rescue takes in a puppy found with swastikas and swear words on its skin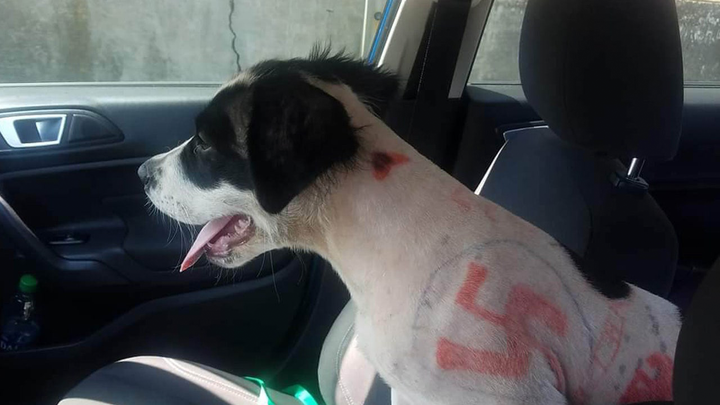 A puppy was placed at a Missouri animal shelter. The fur was shaved, revealing swastikas and swear words on the skin.
The three-month-old pup was rescued by law enforcement and turned over to Rescue One, a non-profit animal rescue and veterinary hospital in Springfield, Missouri.
Rescue One said in a May 9 Facebook post that the dog had swastikas all over her body. She also wore a message on her back that read, "Do not feed this (explicit) dog."
"She goes in the tub to wash away all this hate. There's only love here," the rescue wrote.
Thanks to the few baths she's received since arriving, the dog's scars, which rescuers named Leslie, are beginning to fade.
"She met some canine friends, took lots of naps and was helpful at the clinic. We named her Leslie and she's perfect," Rescue One wrote in a separate post on May 10.
According to Fox's Live Now, Leslie has been placed in a foster home where she will remain until she is ready for adoption in about a month.
"We have already started reviewing the adoption applications for them. She loves to play with the other dogs in her foster home and is a very friendly pup," the outlet's animal rescue said.
Rescue One said in its original post that it was "grateful that the police rescued this dog and that we can be a part of her journey to a great home."
Missouri Animal Rescue takes in a puppy found with swastikas and swear words on its skin
About Post Author