Daniel Penny protected every person in that subway car. So now he's got to pay.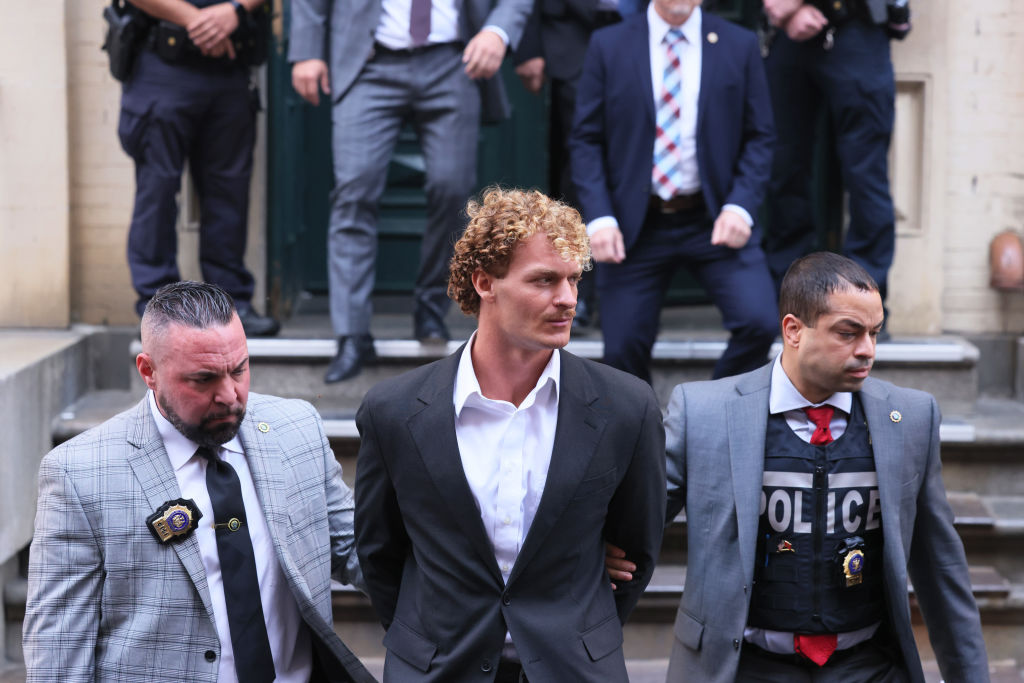 New York City seems like a gag that's gone too far. "First, we'll release all the criminals because too many black bodies are in prison! Then we'll denounce the police as Nazis and refuse to prosecute any suspects they arrest. The city will be overrun with violent criminals — raping robbing, assaulting and killing at will… But if anyone steps up to protect the citizenry from the mayhem that's been intentionally inflicted on them, well, gentleman, then we'll prosecute the hell out of that douchebag."
This exactly how things are playing out right now with twenty-four-year-old Daniel Penny, the Marine veteran who subdued a deranged lunatic on the F train at the Broadway-Lafayette Street station in Manhattan on May 1.
According to witnesses, Jordan Neely, a thirty-year-old homeless man was pacing madly, and throwing trash at passengers trapped in a hermetically-sealed subway car with him. He said he did not mind "going to jail or getting life in prison" and was "ready to die." (Enjoying your commute, New Yorkers?)
The ex-Marine quietly stepped behind the kook and put him in a chokehold to hold him for the police and protect everyone on that subway car. Neely struggled so much that two other men had to help secure him. Alas, Neely died in the skirmish.
In response to his death, a lot of ugly people held protests, demanding "justice" for the darling psychotic. We're supposed to be impressed that Neely hadn't punched anyone on the subway car yet. He was merely throwing garbage and threatening to hurt them.
If you're wondering why would anyone imagine things might have escalated, it's because things always escalate with crazies.
One Saturday morning in August 2020, around 11 a.m., also on the F train, a thirty-one-year-old man, Jose Reyes, was "making weird noises and laughing to himself," according to a witness. He wasn't assaulting anyone. Big deal, you scaredy cats. The next thing you know, he'd grabbed a twenty-five-year-old woman, punched her, pushed her to the ground and started raping her in front of horrified bystanders. Too bad Penny wasn't there.
In the afternoon of March 18, 2021, a disturbed man on the on the 1 train in Manhattan, Marc Mathieu, thirty-six, yelled "you motherfucking Asian!" at Narayange Bodhi, a sixty-eight-year-old Sri Lankan on his way his job as a security guard, and knocked him unconscious. Mathieu had nine prior arrests. Too bad Penny wasn't there.
One Saturday morning in January 2022, an emotionally disturbed man was taunting passengers on the platform at the Times Square Station. Oh it's just verbal harassment — nothing physical! Suddenly the nut ran full force at a woman, Michelle Go, forty, shoving her in front of an oncoming train, where she was pulverized beneath the wheels. Naturally, the man, Martial Simon, sixty-one, was a homeless ex-con, out on the streets where he could continue terrorizing the public.
The station was full of transit officers, but what could they do? Until Simon ran at Ms. Go, he wasn't doing anything wrong. Harassing strangers is a basic constitutional right in New York! Unless Penny had been there.
In February, 2022, a woman was waiting alone at the Wakefield-East 241 Street station when a man approached her saying, "Mami, how come you don't want to talk to me?" Just words. No need for concern. The man, Frank Abrokwa, thirty-seven, soon returned and jammed a bag full of his own feces into her face, ears, eyes, nose and hair, saying, "Like this, bitch?" Too bad Penny wasn't — well, you know.
In the previous six weeks, Abrokwa had punched a thirty-year-old man on a subway platform and a fifty-three-year-old man at the Port Authority Bus Terminal. So naturally, he was still at large. In fact, the feces attack was his fortieth arrest — whereupon, he was released again without bail. He committed another violent crime the very next day. And again he was released without bail.
Weird that New Yorkers would feel like city officials are releasing insane people onto the streets and refusing to remove them, even when they commit violent crime, after violent crime.
One lovely Sunday morning in May 2022, Andrew Abdullah was pacing and muttering to himself on the Q train as it crossed from Brooklyn into Manhattan. Then he pulled out a gun and blew away a Goldman Sachs employee, Daniel Enriquez, forty-eight. In a surprise development, Abdullah was facing a slew of criminal charges — for stealing property, domestic abuse, endangering the welfare of a child and gun possession. Free as a bird!
The stories go on and on and on. But all these were other demented homeless people, not the beloved, and much-missed Mr. Neely.
Actually, Neely is no different from the rest. Among his forty-plus arrests, Neely punched a man on a subway platform in May 2019, breaking his nose. This was New York City, so a month later, he was still roaming the streets, and cold-cocked a sixty-seven-year-old man. Then in 2021, Neely decked a sixty-seven-year-old woman, hitting her so hard he broke her nose and fractured her orbital bone.
Neely's admirers say that he's mentally ill, but I notice that he was sane enough to keeping choosing elderly people to attack.
And now our brave Marine has been indicted by Alvin Bragg for finally putting an end to Neely's one-man crime wave — something Bragg's office steadfastly refused to do. Penny protected every person in that subway car. So now he's got to pay.
Daniel Penny protected every person in that subway car. So now he's got to pay.

My new Spectator column here – https://t.co/NMx6IDjSmT pic.twitter.com/EeoTQd7UhK

— Ann Coulter (@AnnCoulter) May 15, 2023
About Post Author