You May Want to Hoard That Olive Oil in Your Pantry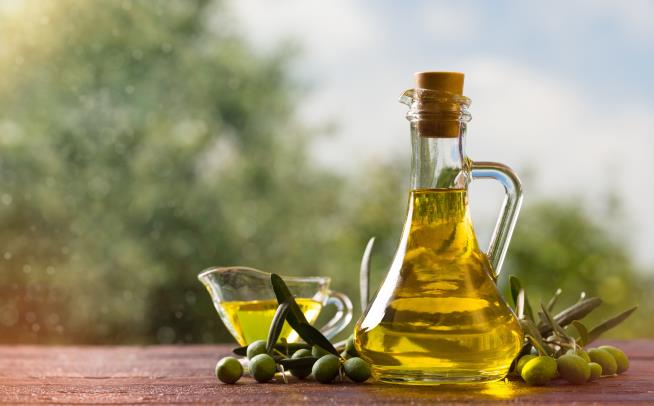 By Jenn Gidman,
If you're on a Mediterranean diet kick, you might want to be judicious with how much olive oil you use in your meals. That's because the monthslong drought and sweltering temps in the Mediterranean, especially Spain, have dried out olive trees, causing prices to spike and a looming shortage of the condiment. Quartz cites stats from the International Monetary Fund that put the worldwide price tag for olive oil at about $6,000 per metric ton—a level not seen since 1997, when the price hovered at around $6,225.
In Spain—the top olive oil producer on Earth, churning out a million-plus tons of the stuff in a typical year—the most recent five-month olive harvest that ended in February eked out just half of what it usually does. The driving factor behind the current slippery scene: "exceedingly poor" weather, a Mintec analyst tells CNBC, which notes that olives thrive when the mercury is between 60 and 80 degrees Fahrenheit. Per the Telegraph, recent temperatures in the south of Spain recently broke the 100-degree mark. Farmers union officials in Spain say lack of rainfall is also hurting crops, with barely a drop since January—and it doesn't look like it will be getting better anytime soon.
"Looking at the forecasts, it's almost a given—it's going to be another grim year," Rafael Sanchez de Puerta, who heads up the Spanish olive cooperative Dcoop, tells the paper. One farmer who belongs to the UPA union in Andalusia says he hasn't seen things this bad in the two decades he's been working the fields. "If something doesn't change radically in the next few weeks, it's going to be a catastrophe," he says. Quartz notes that while olive oil production has also dipped in other parts of western Europe, including Italy, nations with better weather are trying to pick up some of the the slack, including Greece and Turkey, the latter of which nearly doubled its olive oil production last year.
https://www.newser.com/story/335077/olive-oil-industry-on-the-brink-of-catastrophe.html
About Post Author