'Come and f*** me up': Megyn Kelly challenges Charlize Theron over 'deeply disturbing' drag queen shows with children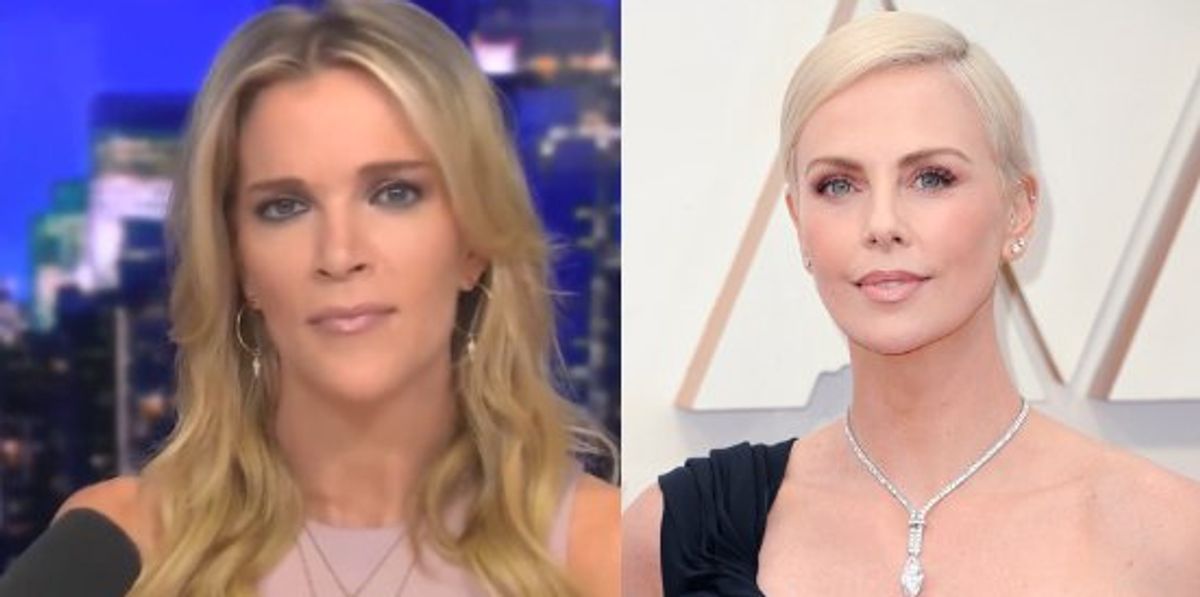 PAUL SACCA
Megyn Kelly confronted Charlize Theron about statements and threats made by the Hollywood actress regarding drag queen shows involving children.
Earlier this month, Theron was a part of the "Drag Isn't Dangerous" telethon – described as "a night of entertainment and pure queer joy to combat recent anti-LGBTQIA+ legislation across the country."
Theron proclaimed during the telethon, "We love you queens! We're in your corner, and we've got you, and I will f*** anybody up who is, like, trying to f*** with anything with you guys."
"It's really in all seriousness, there are so many things that are hurting and, really, killing our kids, and we all know what I'm talking about right now and it ain't no drag queen," Theron said. "Because if you've ever seen a drag queen lip-sync for her life, it only makes you happier, it only makes you love more, it makes you a better person."
During Friday's episode of "The Megyn Kelly Show," the former Fox News host responded to Theron's threat by challenging the celebrity actress.
"Okay, so why doesn't Charlize Theron come and f*** me up? Because I'm 100% against her on this," Kelly stated.
"Yes, there are fun drag queen shows. I've been to them," said Kelly. "When I lived in Chicago, we went to one that was super fun – it was all adults."
Kelly continued, "But there are drag queen shows out there right now that are deeply disturbing, and they're happening in front of young children."
"So know what you're supporting, understand what we're actually seeing out there which can include absolutely the grooming of young children," the Sirius/XM podcast host said.
"I know the word 'groomer' does get overused, what happens is if you introduce sexual behavior, and sexual references, and just sexualization in front of children, too young, it gets them used to it. It lures into that behavior," Kelly said. "I'm not saying that drag queens are pedophiles, but you don't know who is in that child's life."
Kelly declared, "So it is a problem Charlize, believe me."
Theron adopted a biological a 3-year-old boy named "Jackson" from South Africa in 2012, but announced in 2019 that Jackson was a girl.
Kelly noted that Theron should be against sexual drag queen shows in front of children, whether she is the parent of a transgender child or not.
Kelly stated that "obviously I don't know" Charlize Theron, "but I feel like I have some weird connection with this person because she played me in a movie."
Theron portrayed Kelly in the 2019 movie "Bombshell," a film about alleged sexual harassment at Fox News, and was reportedly influenced by Kelly's memoir "Settle for More."
Kelly aired footage of a drag queen show with sexually explicit language that was taken by Sara Gonzales – host of TheBlaze's "The News and Why It Matters"
"This is not a parental rights issue, this is a child abuse issue," Gonzales told Kelly. "This is the sexual exploitation and abuse of children. You are infecting their young minds that are not ready to process such images, such language."
"Drag queens are not under attack. All we're doing is simply asking them: 'Please stop doing this in front of children,'" said Gonzales – the founder of Defend Our Kids Texas, which is an organization with a mission to "expose attacks on our children's innocence by uncovering and highlighting the left's public displays of sexual degeneracy."
About Post Author