Villagers Told to Get Out Before Mountain Falls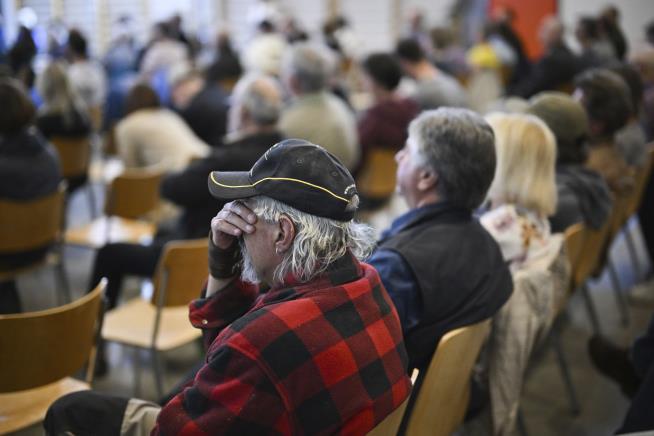 By Rob Quinn,
Residents of the small Swiss village of Brienz have been told to get out before a mountain falls on their heads. Geologists say a large chunk of the mountain that looms over the village is unstable, and that more than 70 million cubic feet of dirt and rocks could fall in the very near future, the New York Times reports. Visitors have been banned and the approximately 60 year-round residents have been told to evacuate by Friday night. Experts say it's most likely that any rockslide will fall short of the village, or that it will move slowly like "viscous honey," but there's a roughly 10% chance that the rock could come down all at once, destroying Brienz.
The Alpine village has long been considered at risk, and residents are used to having large boulders fall in their gardens, but the evacuation order came a lot sooner than people expected, the BBC reports. Officials said this week that measurements had detected a "strong acceleration over a large area," indicating that "rock material will collapse or slide in the coming seven to 24 days," reports the AP. Residents have been told to expect to be away for months. They'll be allowed to return to the village occasionally, but not to stay overnight. The local church's 500-year-old altarpiece is being moved to safety.
Some residents have been offered accommodations in nearby villages. Renato Liesch, who grew up in Brienz, tells the New York Times that he's going to his hunting cabin with possessions including his tools and wood sculptures. "We always knew subconsciously that it is a precarious situation," but residents never expected a full evacuation, says Liesch, who's waiting for fate to take its course. "It's like a tornado, it goes where it wants, whether you are in its way or not," he says. "Same with the stones coming down that mountain: If they land badly, they will destroy my house."
https://www.newser.com/story/335128/villagers-told-to-get-out-before-mountain-falls.html
About Post Author