Mother of Boy Who Shot Teacher Says He Felt Ignored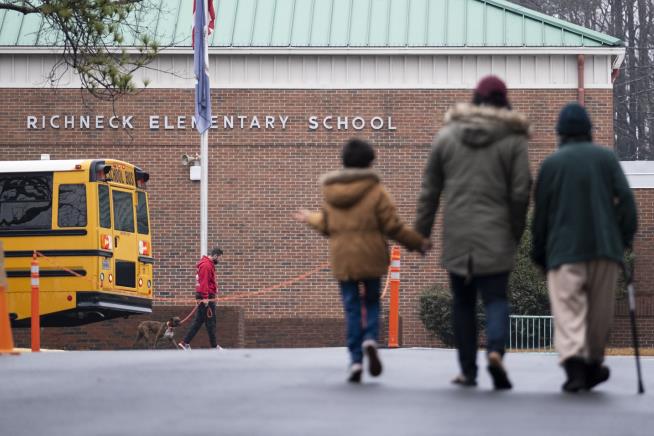 By Bob Cronin,
Deja Taylor, whose 6-year-old son shot his first-grade teacher, said he "actually really liked" Abby Zwerner but "felt like he was being ignored." In an interview with ABC News, Taylor described the boy as a "great kid" who's "very energetic," which she attributed to his ADHD diagnosis. "He's off the wall. Doesn't sit still, ever," Taylor said. Zwerner, who was shot in a Virginia classroom on Jan. 6, has described the child differently. She said in a lawsuit that he had a "history of random violence" and "attacked students and teachers alike."
The teacher has given the example of the time he threw her cellphone to the ground "so hard that it cracked and shattered." Taylor maintained he knocked the cellphone out of Zwerner's hands accidentally after the teacher told him to sit down when he was asking a question. "Most children, when they are trying to talk to you, and if you easily just brush them off, or you ask them to sit down, or you're dealing with something else and you ask them to go and sit down, at 6, you—in your mind—would believe that, 'Somebody's not listening to me,' and you have a tantrum," the mother said.
Taylor described her son's condition as an "acute disability," per CNN. The family said earlier that a parent usually was present in the boy's classroom but stopped the week he shot Zwerner. Taylor said that was because "he had started medication" and "was meeting his goals academically." Still, she said, "I am, as a parent, obviously willing to take responsibility for him because he can't take responsibility" for himself. A family lawyer has said Taylor has suffered from post-partum depression. She's scheduled to go on trial in August on a felony charge of child neglect and a misdemeanor count of failing to secure a firearm.
https://www.newser.com/story/335133/mother-of-boy-who-shot-teacher-says-he-felt-ignored.html
About Post Author