Seattle passes bill in response to dozens of firefighters attacked responding to fires amid homeless crisis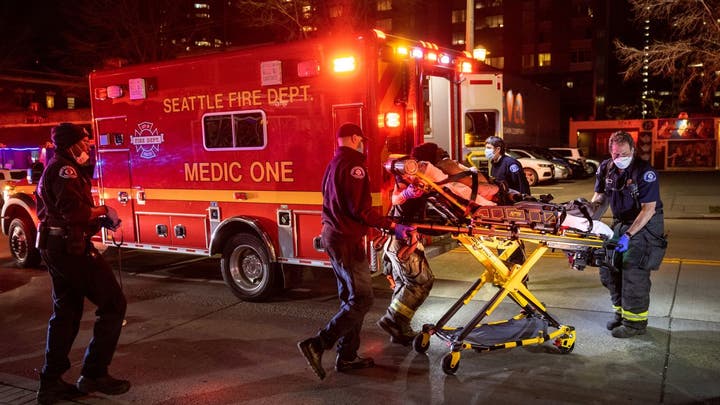 The city council in Seattle has passed a bill aimed at protecting the city's fire department following several attacks on firefighters as they respond to homeless encampments and other precarious situations.
The legislation, CB 120549, was unanimously passed by the city council on Tuesday afternoon and "closes a loophole that excluded them from the same protections given to many other city employees including police officers."
The bill will classify obstructing a firefighter or EMS worker as a gross misdemeanor in the same way obstructing a police officer does and follows an increase in attacks on firefighters in the past year or so, when the department says 50 firefighters have been attacked in just the last 6 months.
In one incident last summer, someone threw a rock at a firefighter during the course of trying to put out a fire at a homeless encampment, King 5 News reported.
"We battle structure fires, vehicle fires, explosions, electrical hazards, chemical hazards, structural collapse, and infectious diseases, but we have been slow to recognize that intentional physical violence against firefighters is unacceptable," Seattle Fire Fighters Union President Kenny Stuart said at the time. "It is not the same as a burning building or a car wreck."
In another incident last summer, a firefighter was rendering aid to someone when that individual pulled out a knife, chased the crew and threatened to kill them. The suspect climbed on top of the firetruck where the crew retreated to and was ultimately arrested.
"It's largely because there is no consequence for anything of this nature in Seattle," former Seattle firefighter Andy Pittman told "Fox & Friends First" in August. "They know that with the reduced number of police in the city after last year's [vaccine] mandate and the continued decline in morale, that they get to write their own playbook and do as they wish."
According to the Seattle Fire Department in August of last year, there had already been 855 fires in homeless encampments in 2022.
A recent report by the U.S. Department of Housing and Urban Development showed that homelessness in Washington was growing, with much of that growth being driven by Seattle and King counties.
Seattle Fire Chief Harold Scoggins said in February that firefighters responded to more than 5,200 drug use-related calls last year, Fox 13 Seattle reported, which averages to about 14 calls per day. In 2021, the number of drug related calls was 3,600 and in 2020 it was about 3,000.
"When we have to delay our response because of threats, it can cause fires to increase in size or medical conditions to deteriorate. I want to thank the Mayor's Office, the City Council and the community for their ongoing support of the Seattle Fire Department," Scoggins said in a press release Tuesday.
"No employee should fear for their safety from bystanders as they deliver life-saving services. When firefighters are carrying heavy and difficult to manage equipment to put out a fire or kneeling over to resuscitate a patient, they are particularly vulnerable," Councilmember Lisa Herbold, the sponsor of the bill, said about the legislation.
"Unfortunately, that vulnerability leads not only to risks to themselves, but delays that have a disparate impact on vulnerable communities they serve."
https://www.foxnews.com/us/seattle-passes-bill-response-dozen-firefighters-attacked-responding-fires-amid-homeless-crisis
About Post Author