Putin's Victory Day Celebration Isn't What It Once Was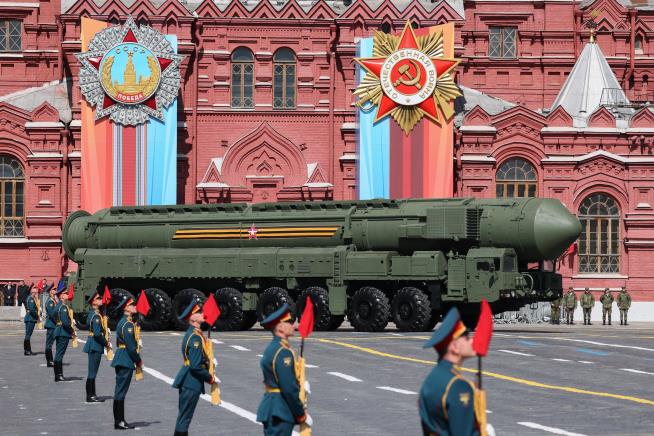 By Jenn Gidman,
Every year on May 9, Russia celebrates Victory Day, a commemoration of the day when Russia defeated Nazi Germany during World War II. NBC News calls the holiday "the most sacred day on the calendar for Putin's Russia," and one that "has held tremendous sentimental value for Russians" since the Soviet era came to a close. It's also one that's typically accompanied by lots of fanfare, including a military parade through Moscow's Red Square. This year, though, things are a little different, amid weaker world support for Russia as its invasion of Ukraine continues:
'Muted' display: The Washington Post notes this year's festivities were somewhat subdued, with only about 50 or so military vehicles featured in a shorter-than-usual 45-minute parade through the nation's capital. For context, in 2021 there were 131 military vehicles. Just one tank made an appearance Tuesday, and the usual military flyover was nixed.
Keeping things safe: Following what NBC calls a recent "wave of explosions" inside Russia's borders, security has been tight, especially in Moscow, with drones banned, ride-sharing services shut down in the city's center, and Red Square also shuttered in the weeks leading up to the big day. Victory Day parades in other Russian cities, meanwhile, were either similarly tamped down or canceled altogether.
Putin's words: The Russian president gave a seven-minute speech during the event, in which he noted, per the Post: "A real war has once again been waged against our homeland. Today, civilization is at a critical juncture."
More Yevgeny Prigozhin rants: The head of Russia's Wagner mercenary group waited until the parade ended, then immediately put out a 30-minute video blasting his nation's Defense Ministry again, as he did last week. "Victory Day marks the victory of our grandfathers," he said. "We did not deserve a single bit of this victory."
More attacks: In the days leading up to Victory Day, Russia launched a new series of drone and missile strikes across Ukraine, reports the Guardian. Kyiv alone was attacked by three dozen drones on Sunday, all of which were destroyed over the capital city. Five people on the ground were injured by debris from the fallen drones.
https://www.newser.com/story/335019/putins-victory-day-celebration-isnt-what-it-once-was.html
About Post Author