Bizarre Mystery Finds Cows Sliced With 'Apparent Precision'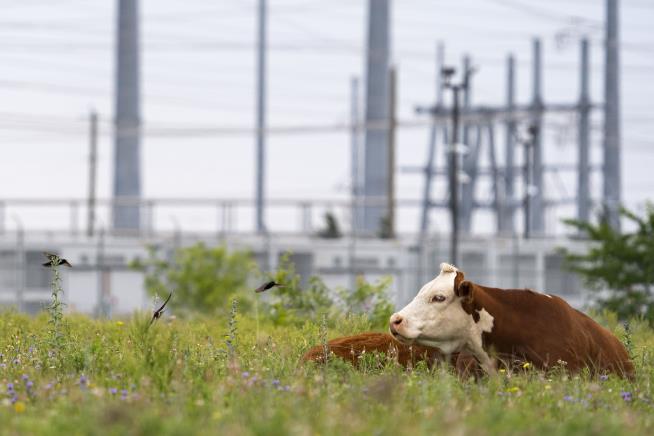 By Arden Dier,
Seven cows have been found dead with surgical-like cuts across three Texas counties in recent weeks, adding to a larger unsolved mystery of cattle mutilation dating back decades, per the Guardian. In a April 19 statement, the Madison County Sheriff's Office described the discovery of a cow with "the hide around the cow's mouth" removed on one side in "a straight, clean cut, with apparent precision." "The tongue was also completely removed from the body with no blood spill," according to the statement, which noted there were no footprints, tire tracks, or signs of struggle. The sheriff's office also described similar incidents along Texas State Highway OSR in Brazos and Robertson counties and "across the United States."
The other cows found in Texas were also "lying on one side with the exposed side of their face cut along the jaw line" and the tongue removed. The anus and external genitalia were removed from two cows with a precise "circular cut." Each cow came from a different pasture and herd. One cow in Robertson County was found to have died of pneumonia, per the Guardian, but the question of the mutilation remains. In reporting on five dead cows found with the tongue and sex organs likewise removed in Oregon in 2019, the AP noted skin can dry out and split and "the tears often appear surgical." But the removal of organs suggests something unnatural, unless carrion bugs went for the tongue and genitals exclusively.
It "could be a plot from an episode of The X-Files," as the New York Times reports. Indeed, Fox News hosted a UFO investigator who traced cattle mutations back to the 1970s and claimed an investigating officer reported seeing aliens emerge from some sort of spacecraft before following a cow that dropped dead in 1976. But in 2005, the officer himself claimed researchers working from helicopters, not aliens, were responsible, per KOAT. The Times reports "the investigation was eventually closed after failing to turn up any evidence." "The FBI was asked to investigate, but was unable to do so because of a lack of jurisdiction," according to the bureau. In its statement, the Madison County Sheriff's Office said it was "coordinating with other agencies to find answers."
https://www.newser.com/story/334990/bizarre-mystery-finds-cows-sliced-with-apparent-precision.html
About Post Author