Biden climate regulation could jeopardize nearly million jobs, tank economic activity by billions: study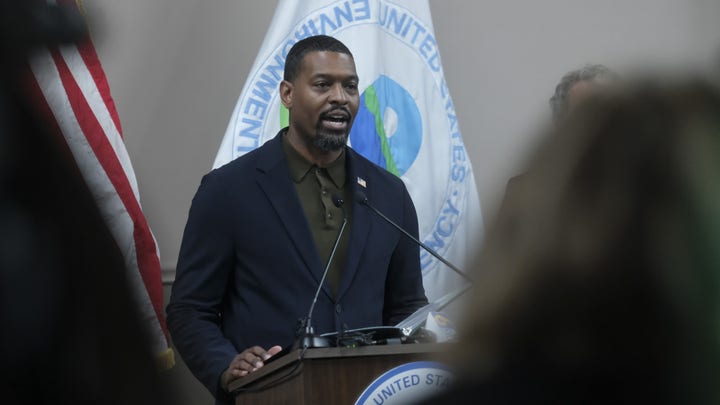 EXCLUSIVE: The Biden administration's recent proposal to tighten restrictions on fine particulate matter known as PM2.5 would threaten nearly $200 billion in economic activity, according to a study seen by FOX Business.
The proposed air quality regulations, unveiled in January by the Environmental Protection Agency (EPA), would threaten between $162.4 and $197.4 billion of economic activity while putting 852,100 to 973,900 current jobs at risk, according to the study that was conducted by Oxford Economics and commissioned by the National Association of Manufacturers (NAM).
"Improving air quality in the U.S. is a top priority for manufacturers, and we've worked for years to make progress in delivering some of the cleanest manufacturing processes in the world," NAM President and CEO Jay Timmons said in a statement to Fox News Digital.
"This analysis makes clear these new regulations will weaken our ability to invest in the technology and processes that would continue to reduce emissions – while jeopardizing high-paying manufacturing jobs," he continued. "We need to let manufacturers do what they do best: innovate and deploy modern technologies to protect the environment, while creating jobs and strengthening the economy."
In addition, the Oxford Economics study concluded that the EPA regulations would limit future expansion and investments within the manufacturing sector. As a result, the data showed $138.4 billion in output and 501,000 jobs would be lost through 2027, the study showed.
EPA's rules would create a total economic exposure of $87.4 billion for manufacturing economic activity equal to 2.4% of the sector's gross value added. More than 311,000 jobs are associated with that exposure.
"Tougher air quality standards will therefore have an impact on manufacturers within areas that are subject to stricter thresholds," the study stated. "There are various potential implications of this, depending on the extent of this pressure and the nature of manufacturers' operations. One is that they must further invest in new technologies to reduce, or abate, the emissions associated with their operations."
"In other cases, this may not be technologically, practically, or economically viable, meaning that companies may have to downsize, relocate, or shut down their operations to comply with tightening emissions standards," it continued. "Any downsizing, relocation, or shutdown of manufacturers' operations would have related implications for future business investment, workers and the communities they operate in, as well as the suppliers and customers that rely on their operations."
On Jan. 6, the EPA released the proposed air quality standards, which seek to curb fine particles, or soot, in an effort to protect Americans from health effects like asthma attacks, heart attacks and premature death. The air quality rules, however, would largely impact industrial and manufacturing activity, potentially forcing companies to offshore operations and import more products, the Oxford Economics study found.
The regulations would lower the annual PM2.5 standard from a level of 12 micrograms per cubic meter to a level between 9 and 10 micrograms per cubic meter. The agency said it would also take feedback on a reduction to 8 micrograms per cubic meter.
EPA Administrator Michael Regan said the rules would help ensure communities are protected from exposure to harmful pollution. NAM's Timmons, though, said at the time that the EPA's proposal was the "wrong approach."
The EPA declined to comment on the projected economic impacts of the proposal.
About Post Author