OMG the Tigers player gets caught stealing in the most painful way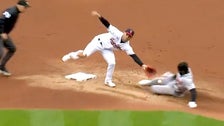 Outfielder Akil Baddoo from the Detroit Tigers was caught stealing on Monday in what was anything but a routine game.
Rather than just being tagged, Baddoo suffered the painful outrage of taking the ball out of his stride first. The ball bounced off his privates and into the glove of Cleveland Guardian' Second baseman Andrés Giménez, who fixed the tag.
Check out the footage… and try not to flinch during slow-mo playback:
About Post Author