Anal, Porn, & Trump and Brad Pitt Fantasies: E. Jean Carroll's Facebook History is Truly Bizarre.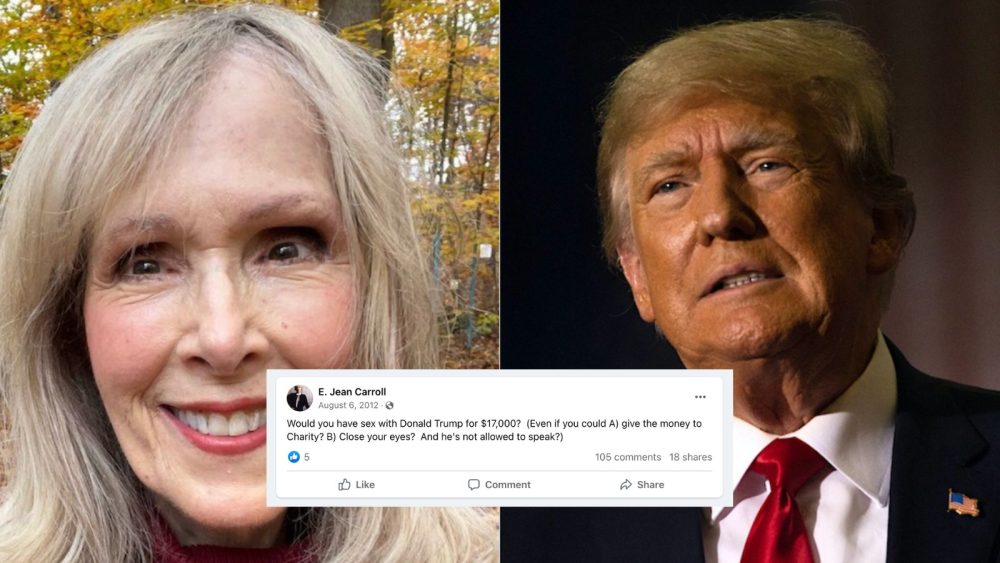 Posted For: 🇺🇸 Kari ⭐️ ✓ᵛᵉʳᶦᶠᶦᵉᵈ
Donald Trump rape accuser E. Jean Carroll has a bizarre Facebook post history that sheds light on some of her more personal thoughts and questions. Much of her commentary appears obsessed with sex, violence, and pornography, with one post from 2012 discussing sex with Donald Trump in a jovial fashion.
Carroll, 79, first alleged that she was raped by Trump in a book released in 2019. Her story is extremely similar to the sub plot of a Law and Order episode which aired in late 2012, a few months after she posted a sex question about Trump to her Facebook followers. Carroll has admitted to being both a Law and Order and an Apprentice fan, the latter hosted by Trump for almost two decades.
"Would you have sex with Donald Trump for $17,000?" she asked her followers, before going on to suggest that in her fantasy scenario, Trump may not be able to speak.
Trump's defense lawyer Joseph Tacopina is believed to have shown the jury the unearthed Facebook post from August 2012. Carroll alleges she was raped by Trump in the dressing room of the Bergdorf Goodman department store in New York in the mid-1990s.
It's not the first time Carroll's bizarre comments or behavior have raised question marks over her claims, with her now infamous moment of calling rape "sexy" live on CNN a leading example.
Other Facebook posts uncovered by The National Pulse shed further light on the mind of Trump's accuser. Carroll, who penned an advice column for Elle magazine, posed questions for her audience including: "Big Dick Energy: Obama's got it. Putin's got it. Maxine Waters's got it. Who's on YOUR Big Dick Energy List? And "Let's play Boff/Marry/Strangle. I'll start: Ryan Seacrest, Dick Cheney, Steve Jobs. (And yes I KNOW the game is really called F/M/K)".
The year 2012 was a particularly prolific posting year for Carroll, who asked her follower: "Really, does any woman LIKE performing oral sex on a man?" And "IN BED: Would you rather be called "normal" Or "Unusual?"
The sex-obsessed writer was also interested in the question: "How much porn should a man be 'allowed' to watch every day?"
Another comment from January 2012 reads: "Lust, Fame, Jealousy, Violently Making Out….Another week beings tomorrow!"
Another, from 2015, asks: "Anal Sex! Are you behind it. Or is it now what it's cracked-up to be? The girl wants her chap to stop asking her for "porn sex".
The list goes on, with posts about "sexual house arrest" and fantasies over having sex with actor Brad Pitt, as well as references to Lolita.
According to Washington Examiner writer Byron York, Carroll's suit against Trump began at the home of NeverTrump blogger Molly Jong Fast:
The party was in honor of yet another Resistance figure, the comedian Kathy Griffin. Among those in attendance was still another Resistance figure, the lawyer George Conway. The gathering was, in the words of a New York Times account, "Resistance Twitter come to life."
Conway was someone important for Carroll to meet. A high-powered lawyer, back in the 1990s, he had been part of the so-called elves, a group of lawyers who secretly helped Paula Jones sue President Bill Clinton for sexual harassment. By 2019, Conway was in a far different position. His wife, Kellyanne Conway, ran Trump's campaign and went to the White House as a top adviser. For his part, George Conway was originally interested in a big job in the Trump Justice Department. Later, when that did not happen, he became virulently anti-Trump, so much so that he would be invited to a party for Griffin at Jong-Fast's apartment. At that party, Conway became an elf all over again.
As the guests enjoyed themselves — the catering was by Momofuku and was said to be excellent — Conway persuaded Carroll that she should sue Trump for defamation. The idea was that when Trump denied having met her and then said she was making up the rape accusation to sell a book and then said she, Carroll, was not his type, that was all defamation. Carroll could sue Trump for that, and then, of course, the case would focus on whether the alleged rape actually occurred, so it would be like having a rape trial for Trump even though the statute of limitations was long passed.
https://thenationalpulse.com/2023/05/08/e-jean-carrolls-facebook-history-is-truly-bizarre/
About Post Author