Trump kicks NBC reporter off plane, slams network as 'fake news:' 'Get him out of here'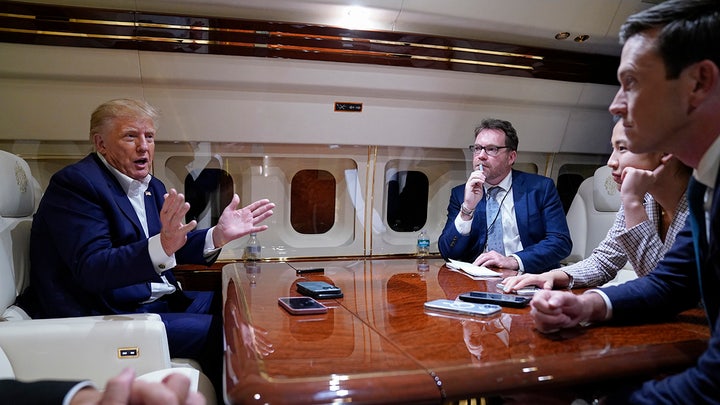 By Yael Halon
Former President Donald Trump reportedly grabbed an NBC reporter's phone and demanded he be removed from his plane after he was asked about the criminal probe by Manhattan DA Alvin Brag during an informal press gaggle, according to newly obtained audio.
The heated exchange, which was first reported by Vanity Fair, occurred on March 25 following Trump's campaign rally in Waco, Texas. The leading 2024 Republican contender was speaking with a group of reporters aboard his plane when NBC News reporter Vaughn Hillyard suggested that he seemed "frustrated" by Bragg's investigation. The question seemingly hit a nerve for Trump, who told the reporter not to ask "any more questions."
"I'm not frustrated by anything," Trump replied, according to a recording obtained by the Washington Post. "What am I, frustrated? I just did a speech for two hours. I'm not frustrated by it. It's a fake investigation. We did nothing wrong. I told you that. … It's the exact opposite. This is fake news, and NBC is one of the worst at it. Don't ask me any more questions," he said.
"I heard you're a nice guy from NBC, but you're not," Trump later added.
Nearly a half-hour passed when Hillyard reportedly tried to ask Trump another question about Bragg's investigation.
"I don't want to talk to you. You're not a nice guy," Trump said.
As Hillyard continued to state his question, a frustrated Trump reportedly grabbed the reporter's two phones from the table in front of him and tossed them to the side, a source familiar with the matter told Vanity Fair.
In the obtained audio recording, Trump can be heard telling his aides to "Get him out of here."
"Let's go, get him out of here. Out of here. Out of here," he said.
The journalists were then escorted away, the Washington Post reported. It is unclear whether Hillyard was removed from Trump's plane, but Trump campaign spokesperson Steven Cheung told the outlet that "no negative incidents" involving reporters ever occurred on his plane.
The exchange occurred several days before the former president was indicted and later arraigned in New York City for allegedly falsifying business records related to hush-money payments to adult film actress Stormy Daniels in 2016.
Trump, the leading Republican candidate in the 2024 presidential election, has called the investigation "Political Persecution and Election Interference at the highest level in history."
https://www.foxnews.com/media/trump-kicks-nbc-reporter-plane-slams-network-fake-news-get-him-here
About Post Author