Last Female's Death Spells Doom for Huge Turtles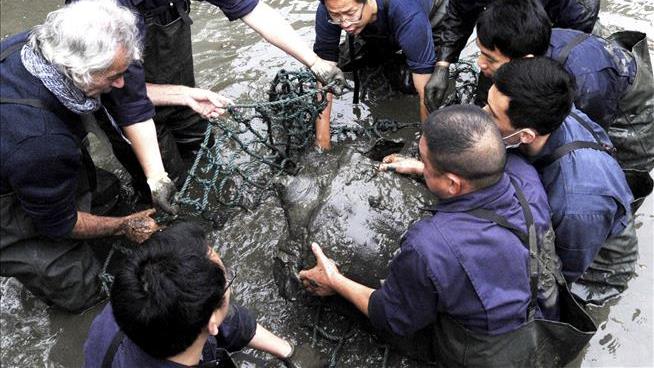 By Steve Huff
The Yangtze giant softshell turtle was hit with a brutal blow, reports LiveScience, when the last known female of the largest known freshwater species, a huge creature over 5 feet long and weighing in at 205 pounds, was found dead on the banks of Hanoi's Dong Mo Lake on April 21. She'd been MIA for days, and it's still unclear what caused her death. She was only discovered in October 2020, and with her gone, it seems the species—already among the most endangered on the planet—is on the fast track to extinction.
The Yangtze giant softshell turtle was once common in China's Yangtze River and other bodies of water like Dong Mo Lake. Hunting and human consumption took a toll, according to the Asian Turtle Program. The two known males of the species can be found in a zoo and in the lake, respectively. Scientists hoped the female and the male in Dong Mo Lake would mate, as the female was mature enough to do so. Tim McCormack from the Asian Turtle Program for Indo-Myanmar Conservation said in a Time interview that the female "could have easily laid a hundred eggs a year." But even with a man-made beach appropriate for nest-building, the turtles never clicked.
Unfortunately, the Yangtze giant isn't the only turtle species threatened with extinction. How It See lists several others:
There are only about 400 adult Red-Crowned Roofed Turtles left, their numbers diminished due to hunting and pollution.
The rare Malaysian Painted Terrapin also critically endangered, though protected at home.
And in China, Yellow-Headed Box Turtles are under threat, categorized as critically endangered.
https://www.newser.com/story/334893/last-females-death-spells-doom-for-huge-turtles.html
About Post Author