This Guy Pranked Alex Jones, and Jones Isn't Happy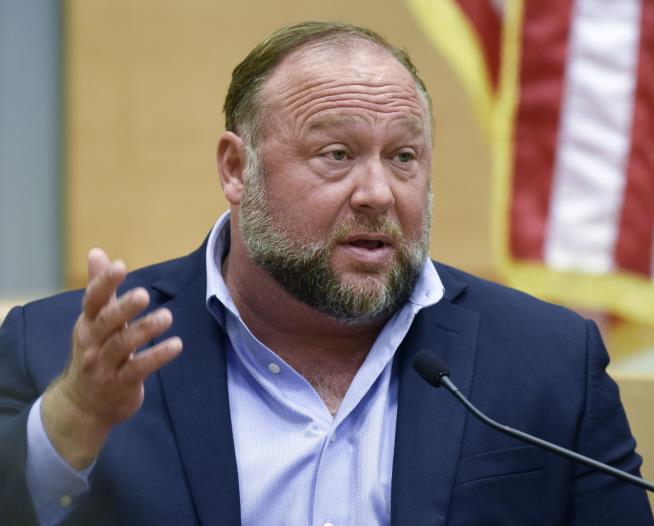 By Jenn Gidman,
If you love prank phone calls, you have something to look forward to on Monday. That's when Chris James, a self-proclaimed "little prankster" from Canada, says he'll be releasing the gag call he made to conspiracy theorist Alex Jones this week, a call that Jones has admitted happened. James, who goes by the Twitter handle "Prank Stallone," first posted about the prank on Wednesday, writing, "So let's say someone has Tucker Carlson's cell number, and also Alex Jones' cell phone number, and also an AI Tucker Carlson voice. They could IN THEORY call Alex Jones and pretend to be Tucker, and have a full conversation with him." He then added, "Anyways I just did that."
James said that he was "honestly caught off guard" by how much Jones bought into his act, and that he'd be airing the call on Monday. While there may have been initial doubt on whether James actually called Jones, that doubt disappeared Thursday when Jones angrily acknowledged the call on his Infowars radio show, per the Daily Beast, which notes Jones spent a half-hour on "one of the most bizarre things that ever happened to me in my life," and on AI used for voice cloning in general. "Keep laughing, you little arrogant person," he ranted at James. "I'm going to file a criminal complaint … you don't get to steal our phone numbers and then pose as us."
Jones, who says James said "horrible, lewd, sexual things" to him during the call, alleged that Carlson's lawyers were now involved as well. James posts that he actually talked with Jones on the phone, and that the Infowars host "pleaded with me to come on his show." James says when he "politely declined," Jones went to town on him and started name-calling (a call James also says he has recorded). On Thursday, James mocked Jones' call for him to come on his show, and once more made his intentions clear on that front: He's not going. "Sorry if that's something you want to see, but my intuition screamed at me that it was a bad idea," James tweeted.
https://www.newser.com/story/334865/this-guy-pranked-alex-jones-and-jones-isnt-happy.html
About Post Author