Chicago reporter issues dire warning after being barred entry to luxury migrant hotel: 'Ticking time bomb'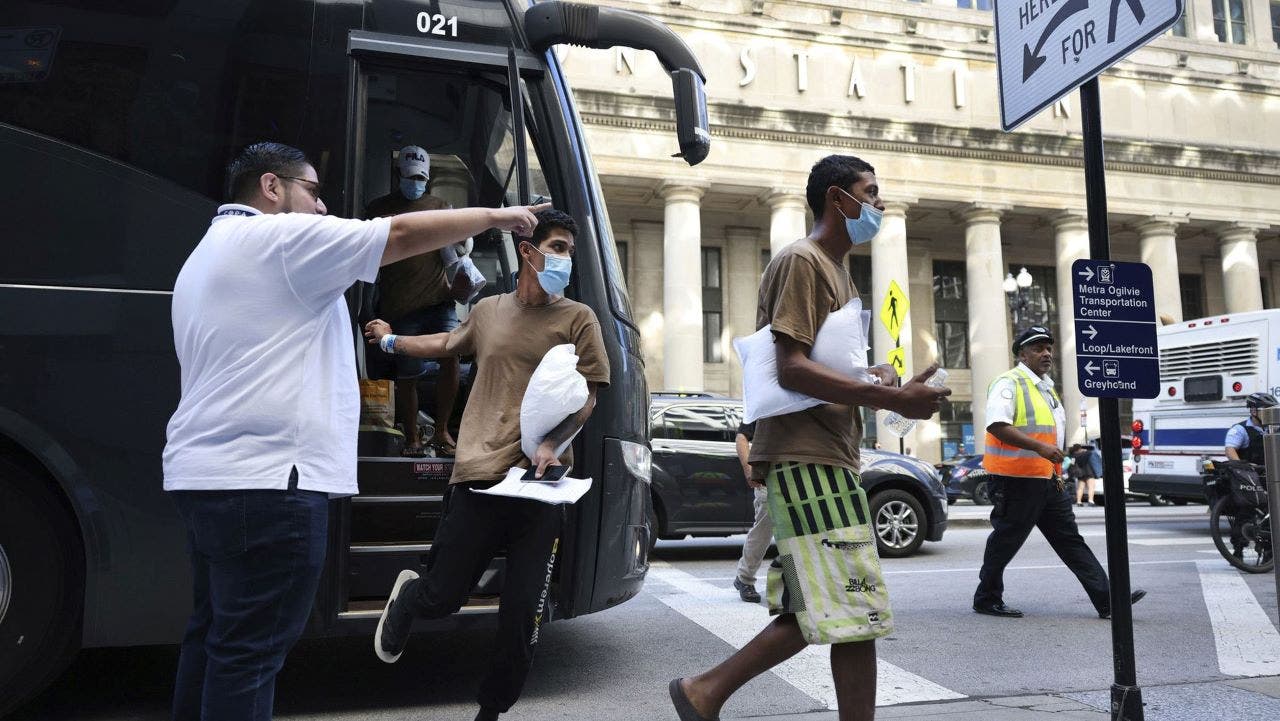 Chicago-based reporter William Kelly was barred from entering a luxury hotel now closed to house migrants, resulting a heated exchange caught on camera.
A Chicago reporter issued a stark warning on public safety after employees working at a luxury hotel housing migrants barred him from entering during a heated exchange caught on camera.
William Kelly spoke with
workers at the Inn of Chicago, requesting additional information about the status of the hotel, but the employees quickly told him it was closed and he was not welcome because he wasn't a "resident" at the hotel.
Kelly recounted the "hostile" exchange with the individuals on "Fox & Friends First" and his broader concerns surrounding how using the hotel as a migrant facility could impact the Windy City's already-rampant crime.
"It is very disturbing," Kelly told co-host Ashley Strohmier Friday. "This is right off of Michigan Avenue. We already have the retailers fleeing due to violent crime. Tourists obviously have flatlined in the city of Chicago. Hotels are struggling, and this luxury hotel is apparently being used to house migrants."
"The city of Chicago isn't talking about this at all, so Chicago residents are being kept completely in the dark," he continued. "We really have a ticking time bomb here, something… tragic could happen at the hotel. Something could spill out onto Michigan Avenue. We are entering Chicago's notorious murder season, and we already have an out-of-control crime problem. The police are understaffed, and our new mayor doesn't seem to have a plan."
The Chicago reporter caught the exchange on video after one worker told him the location was "private."
Kelly pressed the individuals, arguing the location was a hotel and he saw other people go inside, but one employee said "you cannot come in," and after further dialogue said, "It's closed for you."
"It's a private area, so therefore it's private," one person said. "You're not a resident here."
Kelly said the hotel is completely closed to public. He said after speaking with migrants, he found that a majority of the individuals are from Venezuela.
He was quick to note that under outgoing Mayor Lori Lightfoot's leadership specifically, the city housed the migrants for a steep price tag, all at the expense of the city's taxpayers.
"Mayor Lightfoot is saying that this is going to cost the taxpayers between 20 and $25 million a month," Kelly said. "Where is this money going? There's never really, to my knowledge, been any accounting. We don't really even know how many migrants are at this hotel."
"You can be sure that… if this hotel was just being run out for the public… there'd be… city inspectors crawling all over this place to shut it down," he continued. "But yet… as of right now, there's nobody, no one who isn't somehow running this very secretive operation, is even allowed inside the hotel."
Kelly's broader concern surrounding the run-in with employees at the Inn of Chicago stems from the lack of transparency surrounding the use of city tax dollars.
"The real questions that I have are the people who are in a very secretive way trying to corral these migrants, and also how quickly they turn hostile," Kelly said. "That was the other thing that kind of shocked me was their attitude that Chicagoans almost have no right to know. They have no right to ask any questions, and the second I even asked my very first question before I even attempted to enter the hotel, they called 911."
Kelly has been a longtime critic of Lightfoot, and the pair have a history of tussles surrounding crime in the Windy City. He accused her of revoking his press credentials in order to protect her now-failed re-election campaign.
Some critics cite Chicago's crime record as what spurred her election loss. Her successor, Brandon Johnson, will be sworn in May 15.
https://markets.financialcontent.com/startribune/news/read/43344601/chicago_reporter_issues_dire_warning_after_being_barred_entry_to_luxury_migrant_hotel
About Post Author