Billboards Pop Up All Over the Country with 3 Words That Are Sure to Cause a Headache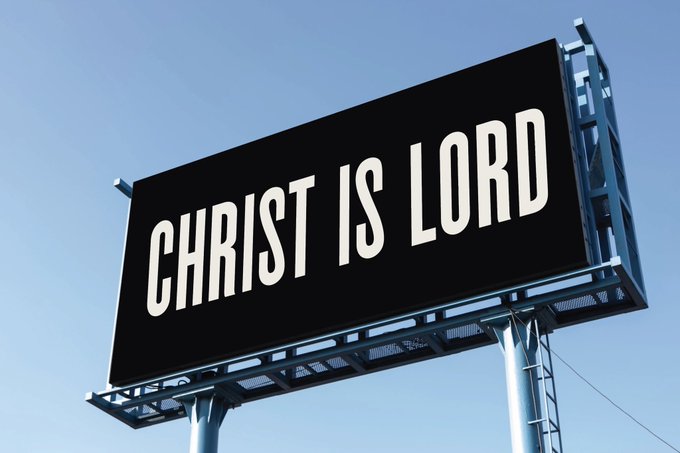 Billboards sharing the same three words are popping up all over the country.
Those words may anger secular atheists, leftists and Democrats in equal measure. What's more, they are sure to anger the Devil himself.
Why? Because these billboards proclaim the ultimate, universal authority of Jesus Christ.
Simply but profoundly, they read, "Christ Is Lord."
The ads were bought and paid for by Christian publisher Canon Press as a promotional preorder campaign for prominent Moscow, Idaho, pastor Douglas Wilson's new book "Mere Christendom."
So far, the ads have appeared or will soon appear in Moscow; Spokane, Washington; New York City, Porto Alegre, Brazil; Nashville, Tennessee; Taylor, Texas; Minneapolis, Minnesota; Greenville, South Carolina and Houston, Texas.
BILLBOARDS IN THE WORKS

✝️ Moscow, ID
✝️ Spokane, WA
✝️ Porto Alegre, Brazil
✝️ New York City, NYhttps://t.co/xpGNeeufhl pic.twitter.com/HcUR20dKDo

— Canon Press (@canonpress) May 2, 2023
According to the official "Mere Christendom" website, christislord.com, if 20 boxes (a deluxe edition of the book that comes with additional items) are ordered from the same zip code, Canon will pay for a "Christ Is Lord" billboard in that area.
When a foreign army has surrounded their enemy, they paper the town to announce their victory and call for total surrender," the website reads.
"This is our campaign for Mere Christendom. We're not campaigning for the election of Jesus, he's already on the throne. We want to help you notify your town and local leaders."
🚀BILLBOARDS THAT ARE VERY CLOSE🚀

✝️Nashville, TN Area
✝️Taylor, Texas
✝️Minneapolis, MN Area
✝️Greenville, SC Area
✝️Houston, TX Areahttps://t.co/xpGNeeufhl pic.twitter.com/vP7J0zOPGB

— Canon Press (@canonpress) May 4, 2023
In the book, Wilson argues that the world's nations must abandon secularism in favor of unabashed Christian leadership in government.
About Post Author