4 Horses Die Ahead of Kentucky Derby: 'It Doesn't Make Sense'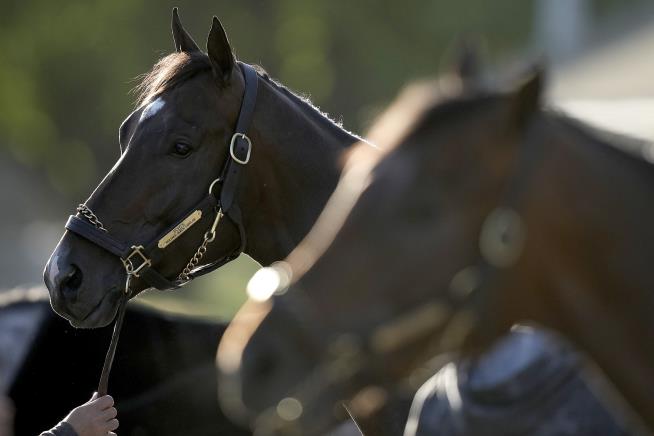 By Jenn Gidman,
New York, California Investigate NFL Ralph Boston Broke Jesse Owens' Record US Olympic Champ Is Dead at 32 Ex-Raiders Player Will Admit to Causing Fiery, Fatal Crash 'Nobody in the Whole World Thought We Were Going to Win' NFL Linebacker's Toddler Drowns in Family Pool Ye's Yeezy Brand Gets Adidas Sued It's the 'Feel-Good Moment of the 2023 MLB Season' Team Returns to Unhappy Fans This Is What 'Pele' Now Means, per a Brazilian Dictionary An Awkward Surprise of the NFL Draft Here's the No. 1 Pick in This Year's NFL Draft
SPORTS /
KENTUCKY DERBY
4 Horses Die Ahead of Kentucky Derby: 'It Doesn't Make Sense'
Churchill Downs says it's looking into 'highly unusual' deaths, 2 of them unexplained
By Jenn Gidman, Newser Staff
Posted May 4, 2023 8:16 AM CDT
4 Horses Die Ahead of Kentucky Derby: 'It Doesn't Make Sense'
Kentucky Derby hopeful Forte waits to get a bath after a workout at Churchill Downs on Tuesday in Louisville, Kentucky. (AP Photo/Charlie Riedel)
King Charles III's coronation isn't the only event of note this weekend. Saturday is also a big day in Louisville, where the 149th running of the Kentucky Derby is set to take place. But the AP notes that getting ready for the annual race has been "overshadowed" by the death of four horses at Churchill Downs in less than a week, with two of those deaths still unsolved. In a statement issued Wednesday, the racetrack notes that two horses, Wild on Ice and Take Charge Briana, "sustained musculoskeletal injuries from which they could not recover" during training or racing, last Thursday and this Tuesday, respectively.
Both of those horses were euthanized. The other two horses, trained by Saffie Joseph Jr., "died suddenly of cause yet to be identified": Parents Pride on Saturday, and Chasing Artie on Tuesday. Churchill Downs calls the deaths "highly unusual" and "completely unacceptable." "We take this very seriously and acknowledge that these troubling incidents are alarming and must be addressed," the racetrack notes in its statement, which adds that the deceased horses have been sent to the University of Kentucky for necropsies. Mark Partridge, manager of Ramsey Farm, where Parents Pride and Chasing Artie were kept, tells the Courier Journal that the necropsies will take between two and three weeks.
"Something's not right," Joseph tells the paper. "These horses, it wasn't because of injury. They left the gate and didn't even try and then dropped down." He adds to CNN that "the odds of it happening twice is in the trillions. … It doesn't make sense." Joseph notes that nothing seemed amiss in the bloodwork that came back for those two horses. A spokesperson for the Kentucky Horse Racing Commission says, "The KHRC is aware of the incidents and is looking into it," while Churchill Downs notes in its statement that it's "working with regulators to conduct swift and thorough investigations."
https://www.newser.com/story/334826/4-horses-die-ahead-of-kentucky-derby-it-doesnt-make-sense.html
About Post Author