2 persons of interest sought in Lawncrest quadruple shooting that left 3 teens dead, 1 injured: police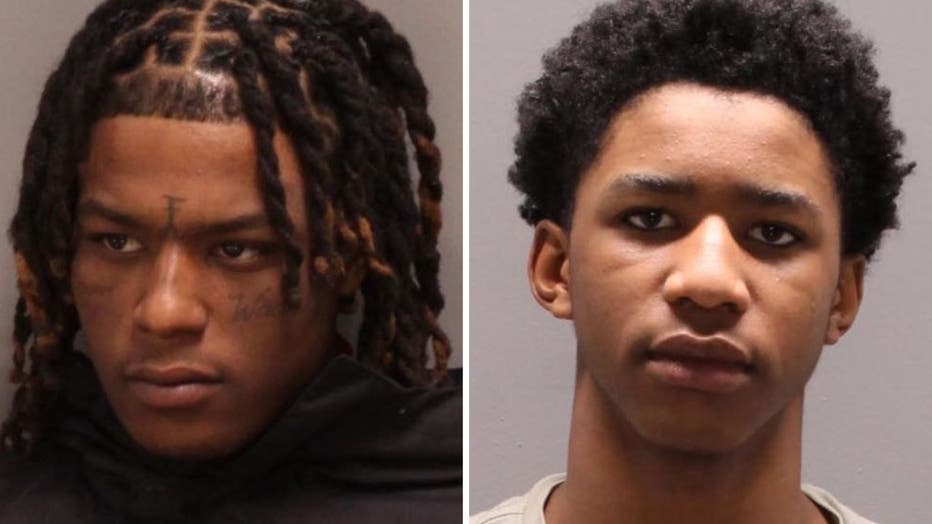 PHILADELPHIA – Police say three teenagers as young as 14 were killed in a quadruple shooting Friday afternoon in Philadelphia's Lawncrest section, and two other teen boys are being charged in relation to the shooting as the search is on for two persons of interest.
Officers from the Philadelphia Police Department were called to the 5900 block of Palmetto Street around 3:30 p.m. for reports of someone shot.
First Deputy Commissioner John Stanford said a 17-year-old was found shot on the sidewalk, an 18-year-old on the front porch and the body of a 14-year-old inside the house by the doorway. All three were pronounced dead on the scene by medics.
The victims have been identified as Malik Ballard, 17; Khalif Frezghi, 18; and Salah Fleming, 14.
A 16-year-old shooting victim was driven to Jefferson-Frankford Hospital by a vehicle that police later caught up with at Whittaker and Bingham streets.
Two juveniles boy, ages 15 and 16, found inside a car were taken into custody and later charged in connection to the deadly shooting, according to authorities. A gun was also recovered.
The teens have been charged with VUFA and related offenses.
In a press conference held Monday, police said the shooting took place inside a home on Palmetto Street, where the group met up for some type of "transaction."
Officials also announced the search for Tyree Lennon, 22, and Taj Lennon, 15, in connection with the shooting. The two persons of interest are believed to be cousins, according to law enforcement personnel.
Authorities say the two should be considered armed and dangerous.
According to the latest data from the Philadelphia Police Department, homicides are down 12% from this time last year. Neighbors who spoke to FOX 29, however, aired out their frustrations with the continued rash of gun violence in Philadelphia that is partly responsible for more than 130 deaths this year.
"This is getting worse and worse And something needs to be done," Rodlena Sales, a neighbor, said. "I understand that there's violence all across the United States, but Philadelphia has a problem."
More than 500 people have been murdered in Philadelphia in the last two years, including a historically bloody 2021, during which 562 people were killed.
https://www.fox29.com/news/daytime-shooting-in-lawncrest-leaves-3-dead-1-injured-police-say
About Post Author