'No Mow' movement is catching on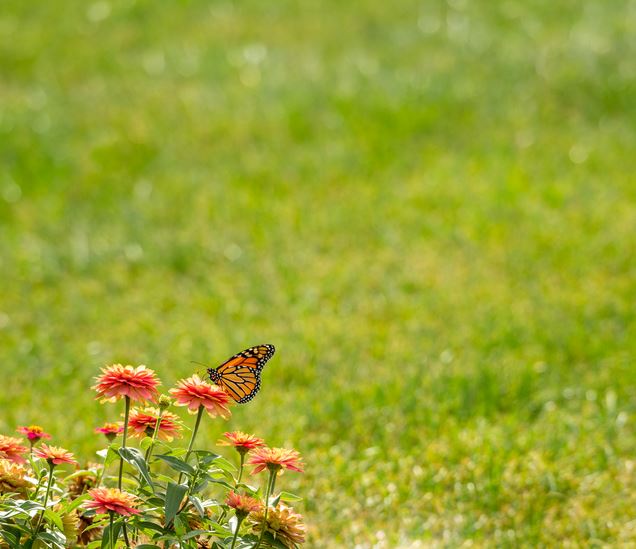 By John Johnson,
An idea gaining in popularity allows you to put away the lawnmower for a month, guilt-free. As Allyson Chu explains at the Washington Post, the "no-mow" movement encourages homeowners to let their lawns get a little wild to help pollinators such as bees and butterflies in the spring. Some neighborhoods have begun encouraging the practice in April, though "No Mow May" appears to be more popular. The concept began in the UK, with Appleton, Wisconsin, credited as being the first US city follow suit in 2020, per Northfield News. The latter site has an explainer on all this because the city of Northfield, Minnesota, recently passed a resolution supporting No Mow May there.
"Unfortunately lawns provide very little in terms of habitat value," horticulturist Zolene Quindoy tells Green Matters. "The more we can leave them be in the spring when flowering plants like clover and dandelions bloom, the better we can provide early food sources for important pollinators like bees, and the longer grass is also a habitat for some invertebrates." As Chu of the Post notes, those who want to create more of a true pollinator lawn will need to take some additional steps, such as seeding native plants. (The "native" part would be crucial for wildlife to make use of the plants.) Local experts can help with that.
"To help pollinators, a good first step is to stop treating your yard with chemicals," writes Chu, citing an expert at the University of Wisconsin-Madison Arboretum. Even after a no-mow month, people might consider leaving the grass at a higher level than usual to help low-growing flowers. "Ideally, grass should be allowed to grow to around six inches before it's cut to roughly four inches," writes Chu. Consider using the mower's highest setting. Lots of sites have additional tips, including here and via the US Fish and Wildlife Service. Lawns cover an estimated 40 million acres in the US, per the Northfield News, and no-mow advocates say dedicating at least some of that space to pollinators, considered both vital and at risk, would make a difference.
https://www.newser.com/story/334444/some-are-putting-mowers-away-for-a-month.html
About Post Author