At Least 6 Die in Pileups Caused by Dust Storm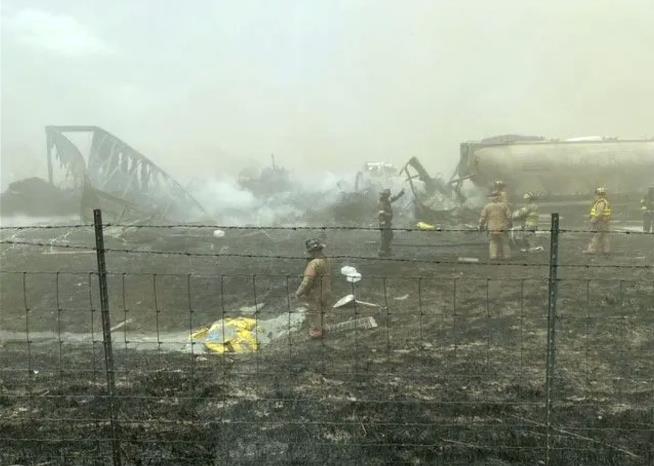 Clouds of dust kicked up by a windstorm covered a two-mile portion of Interstate 55 in Illinois on Monday, causing fatal collisions involving as many as 90 vehicles. At least six people were killed and more than 30 hospitalized with injuries; the victims ranged in age from 2 to 80. The pileups took place in Montgomery County, 75 miles north of St. Louis, WFLD reports. State Police Maj. Ryan Starrick blamed the crashes on "excessive winds blowing dirt from farm fields across the highway, leading to zero visibility." The National Weather Service reported winds at the time of 35mph to 45mph.
"The only thing you could hear after we got hit was crash after crash after crash behind us," said Tom Thomas, who was going south to St. Louis, per the AP. Evan Anderson, who was driving south, said: "You couldn't even see. People try to slow down and other people didn't, and I just got plowed into. There were just so many cars and semitrucks with so much momentum behind them." At a press conference, Starrick called the storm a spring version of a "whiteout situation" caused by a winter snowstorm. Officials said that 30 commercial vehicles and 40 to 60 passenger cars were involved and that two tractor-trailers caught fire.
A meteorologist with the Weather Service noted the area is flat with few trees. "It's been very dry across this area really for the last three weeks," Chuck Schaffer said. "The farmers are out there tilling their fields and planting. The top layer of soil is quite loose." Thirty miles of 55 was closed after the crashes, and Starrick said the stretch wouldn't reopen until late morning or early afternoon Tuesday.
https://www.newser.com/story/334703/dust-storm-cuts-visibility-to-zero-causing-fatal-pileups.html
About Post Author